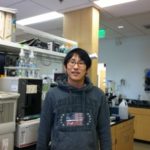 Jinwoo Lee, Ph.D.
Research Associate
Email: l2ce@Virginia.EDU

Jinwoo Lee was born in Seoul, Korea.  He received his bachelor degree in chemistry in 2006.  After receiving his B.S. degree, he moved to the States and started graduate research under supervision of Prof. K. J. Glover at Lehigh University.  His thesis research was solving the membrane protein structure called Caveolin using solution NMR technique.  Upon receiving his Ph.D. in 2013, he joined the Tamm Lab where he is working on the  investigation of pH triggering mechanism Ebola virus fusion loop.
Publications:
Lee, J., Gregory, S.M., Nelson, E.A., White, J.M., Tamm, L.K.   (2016) The Roles of Histidines and Charged Residues as Potential Triggers of a Conformational Change in the Fusion Loop of Ebola Virus Glycoprotein. PLoS One.  Mar 29;11(3):e0152527. doi: 10.1371/journal.pone.0152527. eCollection 2016.http://www.ncbi.nlm.nih.gov/pubmed/?term=Lee%2C+Jinwoo%2C+Gregory%2C+Sonia
Rieth, M.D.*; Lee, J.*; Glover, K.J., (2012) Probing the caveolin-1 P132L mutant: Critical insights into its oligomeric behavior and structure. Biochemistry, 51 (18), 3911-3918.
Lee, J.; Glover, K.J., (2012)  The transmembrane domain of caveolin-1 exhibits a helix-break-helix structure.  Biochim. Biophys. Acta, 1818, 1158-1164.
Mohanty, P.; Lee, J.; Glover, K.J.; Landskron, K., (2011) Discoid bicelles as efficient templates for pillared lamellar periodic mesoporous silicas at pH 7 and ultrafast reaction times. Nanoscale Res. Lett., 6, 61-65.
Diefenderfer, C.; Lee, J.; Mlyanarski, S.; Guo, Y.; Glover, K.J., (2009)  Expression and Purification of Transmembrane Domains for Biophysical Studies." Analytical Biochemistry, 384, 274-278.
Kang J.E.; Kim H.B.; Lee J.W.; Shin S., (2006) Gold(I)-Catalyzed Intramolecular Hydroamination of Alkyne with Trichloroacetimidates" Org. Lett., 8, 3537–3540.
* denotes co-first authors.