UVA Health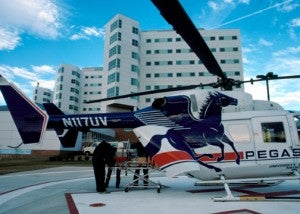 University of Virginia Health embodies the leadership and inventiveness that Thomas Jefferson, its founder, personified. UVA School of Medicine, founded in 1825 as the tenth medical school in the United States and consistently attracts the nation's brightest students. Its faculty is among the most distinguished in the country. UVA Health is a Level I trauma facility drawing patients both from the local population and a large referral base throughout Virginia and neighboring states.  In a typical year, the hospital has over 28,000 admissions, 30% of which enter through the Emergency Department.  Every major medical specialty service is available at the UVA Health.
Emergency Department
The Department of Emergency Medicine created in 1995, provides post-graduate training for physicians in Emergency Medicine and provides clinical services for patients experiencing acute injury or illness.
The Department currently has 30 full-time faculty members, 36 residents, 7 fellows and approximately 185 staff members.  The Department sponsors a residency in Emergency Medicine as well as fellowships in Emergency Medical Services, Toxicology, Cardiovascular Emergencies, Emergency Ultrasound, Administration, Research, and Medical Education.
The Emergency Medicine team serves as the first point of contact with the Health System for approximately 60,000 patients each year.