Leadership Curriculum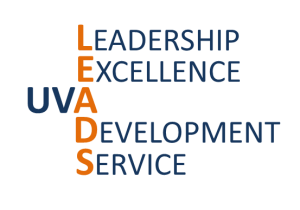 INSPIRING THE NEXT GENERATION OF LEADERS
Delivering quality healthcare today requires more than just coordination and subject matter expertise.  It requires clinicians and researchers who can function and thrive within a highly matrixed clinical and research environment – one that is team-based, innovative, and varied.
To meet these changing demands, clinicians and researchers must develop and hone their leadership skills to ensure future success.
Our Vision
To inspire the next generation of leaders in the rapidly evolving biomedical research and healthcare environments
Our Mission
The UVA SOM Leadership Curriculum is designed to foster the qualities essential for our students to become future leaders in biomedical science, research, and medicine.
Our Curriculum
A working group of faculty, educators, and students, with input from a reactor panel of UVA leaders across grounds, identified 4 domains and 24 competencies paramount to leadership in biomedical research and healthcare.
Fourteen competencies will be prioritized initially and developed as part of the MD and Biomedical Sciences (BIMS) PhD curriculum.
Emphasis in the early years will be on introducing and building on the fundamentals of leadership.
Emphasis in the advanced years will focus on developing leadership-in-practice skills and experience.
Students may ultimately elect to participate as Leadership Scholars by engaging in capstone projects as a launch pad to becoming leaders in healthcare and biomedical research!
For more information:
Stephen Wolf, MD
Chair, Leadership Curriculum Task Force
sjw2v@hscmail.mcc.virginia.edu