A Message from Dr. Raymond A. Costabile, Chairman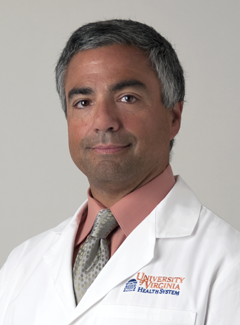 For over 50 years our nationally recognized urologic specialists at UVa have sought to deliver compassionate and innovative treatments while setting the standard of care in men and women suffering from both common and rare urologic disorders.  Care of urologic cancers of the bladder, prostate, kidney and testis places a special emphasis on a team approach that includes our surgeons, radiotherapists and medical oncologists. Cancer rehabilitation and nutrition are new areas of emphasis. Our cancer surgeons have pioneered minimally invasive therapies including cryosurgery(freezing), brachytherapy(radioactive seeds), and Da Vinci robotic prostatectomy for prostate cancer as well as robotic bladder removal for bladder cancer with nearly a decade of experience.  To preserve kidney function, robotic partial nephrectomies as well as cryosurgery have been employed in our department to treat benign and malignant kidney tumors.
Our fellowship trained faculty offer specialized programs men's health, which includes the evaluation and management of erectile dysfunction(impotence), prostate enlargement (BPH), prostatitis, microsurgical reconstruction, infertility, and sperm recovery.  Treatment of benign prostatic enlargement includes the use of minimally invasive therapies such as lasers in addition to medications. We specialize in prosthetic implants for male incontinence and erectile dysfunction. The department is also a nationally recognized center for reconstructive surgery for urethral strictures. Another area of expertise working with our neurologists and rehabilitation experts we care for a large population referred for complications of neurogenic bladder arising from spinal cord injury, multiple sclerosis, and Parkinson's disease. UVa is a leading institution in South for the treatment of kidney stones with several kidney machines and laser technologies for fragmenting stones.  For women we offer an extensive program in female urology, reconstructive surgery and urinary incontinence using a multidisciplinary approach in collaboration with urogynecologists and behavioral therapists.  Our team uses a wide range of approaches for bladder problems including behavioral therapy, medications and minimally invasive surgery.
Our pediatric program in the Department of Urology is a major regional resource for the care of children with urologic conditions such as congenital kidney and bladder conditions including spina bifida, bed wetting, urine leakage, and infections. UVa is among the top institutions in America pioneering minimally invasive surgery in children using the DaVinci robot. The pediatric urology team is spearheaded by fellowship trained pediatric urologists with the assistance of our nurse practitioners.
In addition to outcomes based patient care, our department is a leader in research and education. Our extended network beyond Charlottesville provides care closer to home. We are also proud of our community efforts such as the Men's Four Miler which promotes preventive health and fitness for men.