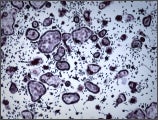 The Center for Public Health Genomics (CPHG) was established within the University of Virginia School of Medicine in January 2007. The primary mission of CPHG is to address questions in public health, biology and medicine by developing and applying state-of-the-art genetic, genomic and computational approaches to human data and samples and manipulation of model organisms.
Research
Dr. Stephen Rich, Director, leads researchers who represent a broad array of expertise that are central to the CPHG. Faculty research includes the genetics of human, mouse and translational medical genetics; mathematical, statistical and computer methods for analyzing genomes; theoretical and evolutionary genetics; and genome-wide studies by sequencing, transcriptional and translational analysis, polymorphism detection and identification of complex network interactions. The CPHG faculty has primary appointments in different academic departments within the University of Virginia School of Medicine, with laboratories located in the CPHG. The CPHG includes affiliated faculty whose laboratories are in other departments across the University. The CPHG structure facilitates and encourages multidisciplinary collaboration among faculty which is essential to the advancement of knowledge in public health genomics.
Education
Graduate research in the CPHG is based in programs through colleges (including the School of Medicine and the College of Arts and Sciences) within existing graduate programs. Graduate students identify CPHG mentors and conduct research in CPHG faculty laboratories. This research leads to degrees in disciplines that are typically multidisciplinary. The majority of graduate students in the biomedical sciences are supported in the first year by funding from the Dean of the School of Medicine, and in years following by training grants. The CPHG supports two seminar series that run throughout fall and spring semesters, the weekly Genome Sciences Seminar Series and the semi-monthly CPHG Research in Progress (RIP). All graduate students are expected to attend these seminars as well as seminars appropriate to their areas of research.
The Future
One of the primary challenges we face today is translation of genomic and complex biological information into appropriate processes for early detection and intervention to reduce risk (or prevent) human disease, thereby improving the public's health. Public health genomics is a multi-disciplinary field that focuses on the effective and responsible translation of genetic information and technology for the benefit of population health. A major focus of our work translates genomic discoveries to appropriate population level assessments, policies and disease prevention programs. Advances in genomics will change the application of public health by focusing interventions on individuals and groups who will benefit the most from behavioral modifications, drug therapies, and other forms of interventions, and will become a fundamental tool of public health and medical science in the 21st century.