Facilities
The Clinical Performance Education Center (CPEC)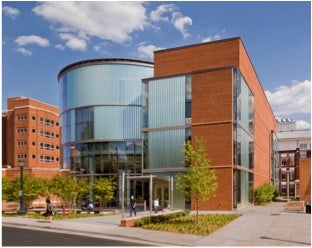 The Clinical Performance Education Center (CPEC) is a cornerstone of UVA's innovative model of medical education.  Housing the Medical Simulation Center and the Clinical Skills Center, CPEC offers students myriad opportunities to practice and demonstrate competency in cognitive and psychomotor skills in simulated clinical settings.  Simulation, whether it involves the use of standardized patients or high-fidelity simulation modalities, has emerged as an essential component of all levels of medical education and assessment.  Bringing both simulation-based programs together in the CPEC underscores their common goal of enhancing clinical performance outcomes through student-centered learning exercises.
The Clinical Skills Center
The Clinical Skills Center provides an education and assessment resource that gives medical students opportunities to practice and receive feedback from standardized patients regarding patient interviewing, physical examinations, and issues of professionalism.  The Clinical Skills Center is an 11,000 ft2. facility located in the basement of the Claude Moore Medical Education Building and offers 18 outpatient exam rooms and two inpatient hospital rooms as well as numerous conference rooms and standardized patient training areas.
The Medical Simulation Center
The Medical Simulation Center offers clinical training with an array of simulation modalities in an interactive learning environment.  It is also involved in research initiatives focused on the advancement of simulation technology and education.  Opened in 2010, the new Medical Simulation Center is an 11,000 ft2. state-of-the-art facility occupying the entire ground floor of the Claude Moore Medical Education Building.  The Center houses four large simulation bays, each with a control room, six spacious procedure rooms, decontamination bay, dedicated ambulance entrance as well as spacious conference rooms, workrooms for teaching faculty, and offices housing the Simulation Team.
LearningSpace
The AV capabilities of the entire 22,000 ft2 CPEC facility are managed by LearningSpace, a web-based AV management system from CAE Healthcare.  The simulation bays each have five cameras and all other teaching spaces have a minimum of two cameras.  This allows for live viewing, recording, and playback ability in all spaces and is core to our teaching activities as well as the ongoing educational quality assurance of all teaching in the Center.