Who we are
Mission
The University of Virginia Medical Simulation Center is driven by the mission to advance the role of simulation technology in the enhancement of medical education through the development, application, and assessment of learner-centered educational methods.  Continuing the collaborative atmosphere promoted by The University of Virginia School of Medicine, the Medical Simulation Center functions in an interdisciplinary, multi-specialty environment working to promote advances in simulation though the development of innovative research, education, and quality improvement initiatives.
Approach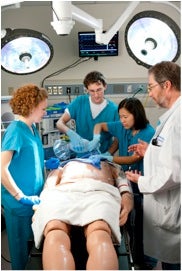 Working synergistically with other education tools in the UME, GME, and CME curricula, the Medical Simulation Center is fundamental to the technologically enhanced collaborative learning model.  The incorporation of simulation technologies across the entire medical education continuum highlights the high priority of clinical performance education at the University of Virginia.
History
As a chairman of the Department of Emergency Medicine, Dr. Marcus Martin had a pioneering vision for the future of medical education.  He saw the potential applications of simulation technologies through all levels of medical education and began to lay the groundwork for the Medical Simulation Center.  In 2000, under his leadership, the Emergency Medicine Center for Education, Research, and Technology Advisory Board (EMCERT) was established.  The EMCERT Advisory Board played an instrumental role in the development of the Medical Simulation Center.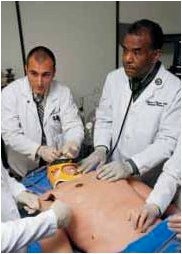 In 2002, Dr. Keith Littlewood, an Associate Professor of Anesthesiology, and Dr. Mark Kirk, an Associate Professor of Emergency Medicine and Pediatrics, joined the effort as the first simulator was purchased.  The following year, two additional patient simulators, a brochoscopy simulator and various task trainers were acquired.  This additional equipment was necessary for the 2004 pilot of the Life Saving Techniques Workshop for third year medical students.  This workshop, a curriculum requirement offered 6 times a year, quickly became a medical student favorite.  In 2006, the simulation equipment moved from a conference room closet to a newly renovated 1200 ft2 space in the McIntire wing of the Old Hospital.  Shortly thereafter, pediatric and baby patient simulators joined the growing family.   With this new facility, the momentum of existing education and research initiatives grew tremendously.  The doors of the Medical Simulation Center officially opened in 2007 with the addition of Elisabeth Wright, an engineer serving as Director of Operations with responsibility  for managing the Center.  Dr. Martin continues to promote his vision of technologically-enhanced medical education in a learner-centered environment.