Before the COVID-19 pandemic, The Center for Public Health Genomics (CPHG) had planned to host a two-day symposium this fall, highlighting "Emerging Scholars"; senior postdocs doing outstanding research in the broad areas of genetics and genomics selected from labs around the country and the CPHG. Due to the COVID-19 pandemic, we have now converted our fall 2020 Genome Sciences Seminar Series into a virtual "Emerging Scholars" symposium series.
Our goal for the series is to highlight cutting-edge research, provide UVA trainees with the opportunity to interact with and learn from their future peers, and foster relationships between UVA faculty/staff/students and the next generation of genome scientists. We expect that the symposium will provide speakers with networking opportunities and experiences that will help them as they enter the job market in the next few years. The virtual series will be held on Wednesdays from 1-2 PM ET (10-11 am PT) via Zoom and will begin on September 16th and run weekly through November 18th (excluding October 28 for the annual (virtual) meeting of the American Society of Human Genetics (ASHG)).
To kick-off the series, we will host Dr. Janina Jeff from Illumina as our keynote speaker.  The virtual Keynote Address will take place on Wednesday, September 9th from 1-2 pm ET (10-11 am PT) via Zoom. We hope that you will be able to join us and please feel free to share with colleagues within and outside of UVA who might be interested.
Click here & see below for the full "Emerging Scholars in Genome Sciences Symposium" schedule. Please email Jennifer Dean at jmd9fe@virgina.edu to request Zoom links to the seminars.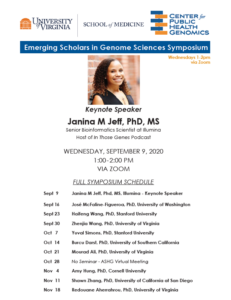 Tags: CPHG Events, Emerging Scholars, Symposium, Virtual