Josyf (Joe) C. Mychaleckyj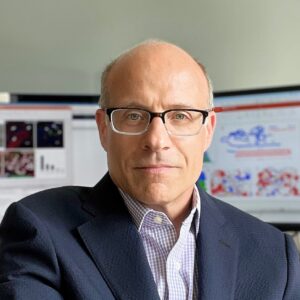 Degree(s): M.A., D. Phil.
Graduate School: Oxford University, UK
Primary Appointment: Professor, Public Health Sciences
Research Interests:
Statistical analysis applied to complex disease genetics; Genetics of Diabetes and Diabetic Nephropathy
Email Address: jcm6t@virginia.edu
During the last 15 years biology has come of age as an information-based science, in some ways playing catch-up to other quantitative disciplines. Data generation has become easier, cheaper, and faster yielding exponential increases in sizes of data sets and databases.  The relative explosion during recent years coincides with the rise of the internet, burgeoning and novel biomedical engineering and biophysics methods and assays, and increasing public awareness and interest in contemporary biomedical research.  The sequencing of the Human Genome presaged this and validated the concept of large-scale highly collaborative biological science projects, familiar to physicists in particle discovery or astrophysics research.  It is clear that biology requires similarly inter-disciplinary teams.
Selected Publications
McGeachie M, Ramoni RL, Mychaleckyj JC, Furie KL, Dreyfuss JM, Liu Y, Herrington D, Guo X, Lima JA, Post W, Rotter JI, Rich S, Sale M, Ramoni MF (2009) Integrative Predictive Model of Coronary Artery Calcification in Atherosclerosis. Circulation. 2009 Nov 30. [Epub ahead of print] .
Pezzolesi MG, Poznik GD, Mychaleckyj JC, Paterson AD, Barati MT, Klein JB, Ng DP, Placha G, Canani LH, Bochenski J, Waggott D, Merchant ML, Krolewski B, Mirea L, Wanic K, Katavetin P, Kure M, Wolkow P, Dunn JS, Smiles A, Walker WH, Boright AP, Bull SB; DCCT/EDIC Research Group, Doria A, Rogus JJ, Rich SS, Warram JH, Krolewski AS. (2009) Genome-wide Association Scan for Diabetic Nephropathy Susceptibility Genes in Type 1 Diabetes Mellitus. Diabetes. 58(6):1403-10.
Cooper JD, Smyth DJ, Smiles AM, Plagnol V, Walker NM, Allen J, Downes K, Barrett JC, Healy B, Mychaleckyj JC, Warram JH, Todd JA (2008) Meta-analysis of genome-wide association study data identifies additional type 1 diabetes loci. Nat. Genet. 40(12):1399-1401.
Bento JL, Palmer ND, Zhong M, Roh B, Lewis JP, Wing MR, Pandya H, Freedman BI, Langefeld CD, Rich SS, Bowden DW, Mychaleckyj JC (2008) Heterogeneity in Gene Loci Associated with Type 2 Diabetes on Human Chromosome 20q13.1 Genomics 92(4):226-34.
PubMed Link for this faculty member
Contact Information
Mailing Address:  PO Box 800717, Charlottesville, VA 22908
Phone:  434-982-1107
Fax:  434-982-1815