Diversity & Inclusion
Our Mission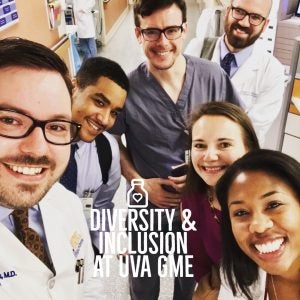 The GME department works closely with UVA faculty and the Housestaff Council for Diversity and Inclusion to stimulate meaningful conversations about race, privilege and representation in our community. Our goal is to ensure that all residents, no matter their race, sexuality, country of origin, gender, religion or able-bodiedness, feel included at UVA.This page is a hub for GME diversity events, local happenings and institutional/program level resources.
HCDI
The House Staff Council for Diversity & Inclusion — HCDI – is committed to promoting diversity and tolerance within the housestaff community by building a culture of inclusion and respect, engaging with future housestaff members, and leveraging the diversity of its members in collaboration with the greater Charlottesville community.
Congratulations to HCDI for being selected as a recipient of the 2021 Martin Luther King Jr. from the University of Virginia Health System!
Residency & Fellowship Programs at UVA
HCDI Sponsored Recorded Events
UVA Resources & Scholarships
Community Resources