Neuro-Oncology Fellowship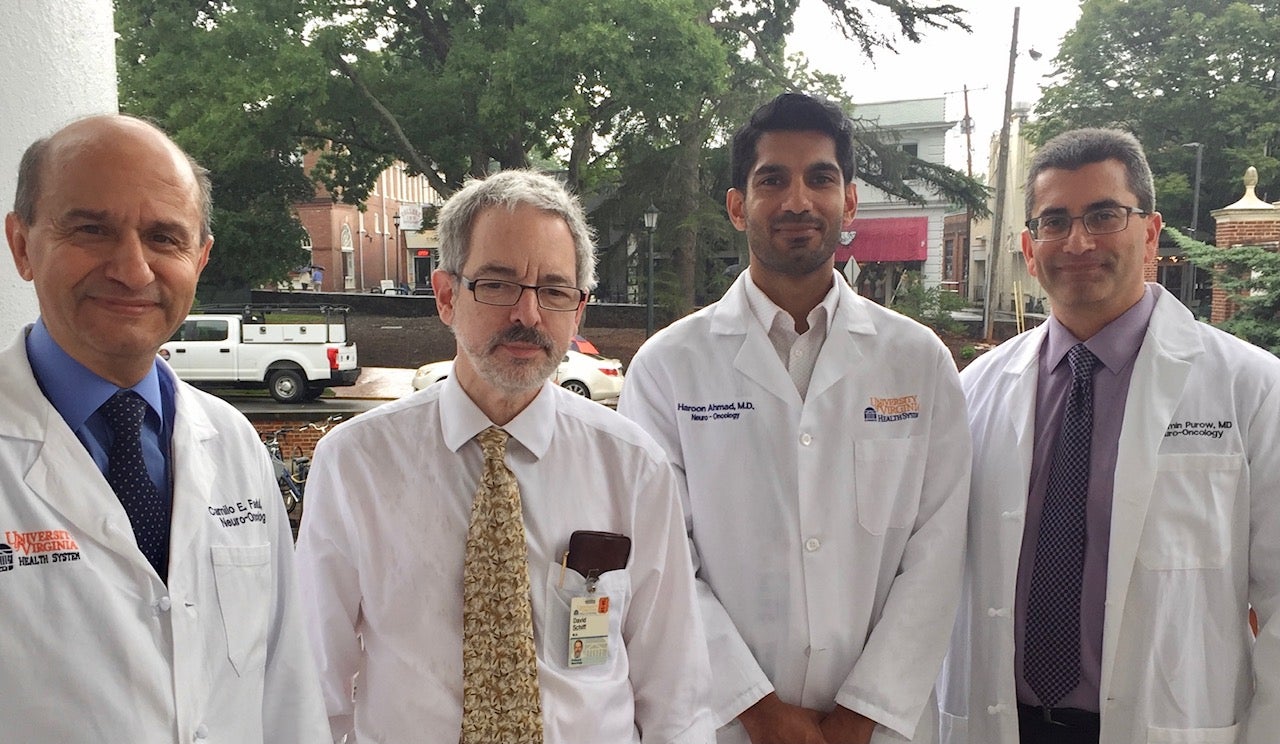 Overview
The University of Virginia Neuro-Oncology Fellowship Program strives to provide fellows with the quality educational experience that will enable them to deliver specialized patient care in the treatment of neoplastic disorders affecting the nervous system.
In accordance with the United Council for Neurological Subspecialties (UCNS) and  the American Board of Psychiatry and Neurology (ABPN) training requirements, fellowship education focuses on enhancing trainees' competence in diagnosing, treating and caring for patients with a vast array of primary or metastatic central and peripheral nervous system neoplasms and any other disorders or complications affecting the nervous system that result directly or indirectly from nervous system or systemic neoplasm or from related treatment. In addition, fellows are trained and engaged in scholar activities including research, quality improvement efforts, and education of other health professionals and the public.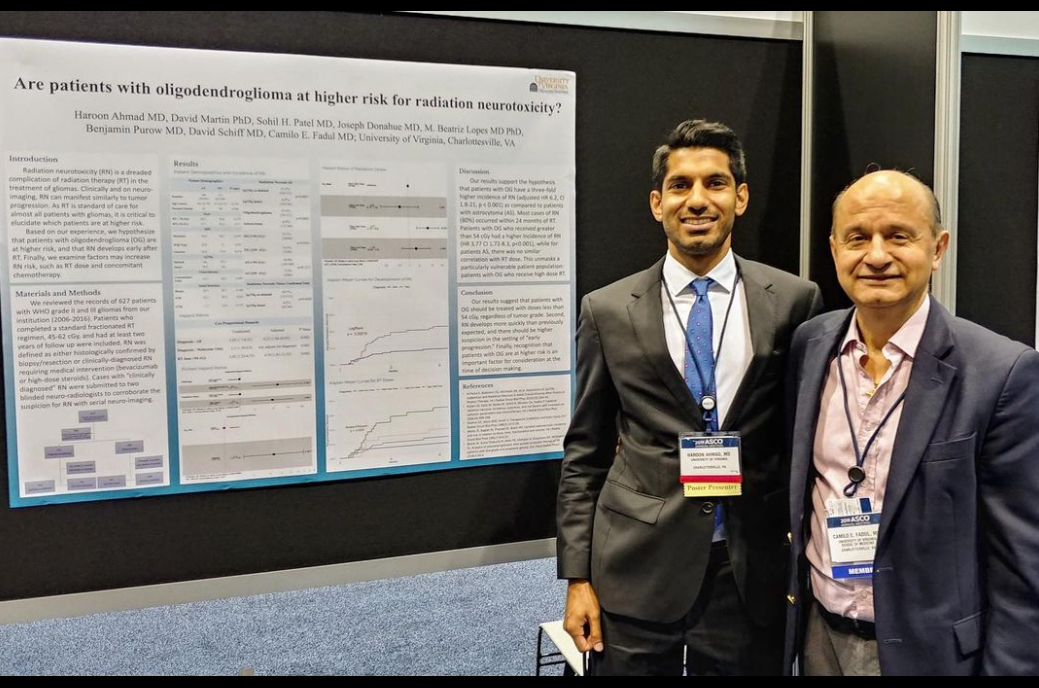 To further the mission of the University of Virginia Health System, Neuro-Oncology fellows are encouraged to cultivate and sustain an environment of excellence, innovation and superlative quality in the care of patients, and the creation and sharing of health knowledge  within a culture that promotes equity, diversity and inclusiveness. At the completion of the fellowship training, fellows are expected to competently attend to the diagnosis and management of neurological disorders associated with cancer and its treatment at all ages of life.
Eligibility
Length of Program: 2 years
Applicants must be a diplomate in good standing of the American Board of Medical Specialties (ABMS), American Osteopathic Association (AOA), or the Royal College of Physicians and Surgeons (RCPSC) in neurology, child neurology, neurological surgery, internal medicine and medical oncology, pediatrics and pediatric hematology-oncology, or radiation oncology.
How to Apply
The UVA Neuro-Oncology Fellowship participates in the San Francisco Match.
For any other questions, please contact the program.
Program Director: Camilo Fadul, MD
Program Coordinator: KarenMarie Smith, (434) 924-5548
For Applicants | Graduate Medical Education
Training and Assignment Overview
Training in neuro-oncology encompasses two years of training. The first year of training focuses on gaining clinical experience in all aspects of neuro-oncology. Fellows are expected to learn the principles of biology, neuropathology, neuroradiology, neuro-ophthalmology, psychiatry, rehabilitation, neurological surgery, radiation oncology, palliative care, and the basic neurosciences as they relate to neuro-oncology. The program curriculum includes both inpatient and outpatient patient care responsibilities.  The second year of training is designed to advance fellow's competency and independence in clinical practice, while focusing on scholarly and academic activities.
The training curriculum intends to provide fellows with progressive responsibility for 1) management of patients with neuro-oncologic illness, including; 2) the evaluation and management of patients requiring medical, surgical, and/or radiation treatment; and 3) consultation service to the medical, surgical, and radiation oncology services.
First Year of Training
During the first year of training in neuro-oncology, fellows will be trained on how to recognize and treat neuro-oncology disorders in adult patients, by acquiring core knowledge and becoming competent in the subspecialty. First year of training includes the first 6 months spending six half-days/week in neuro-oncology continuity clinic and answering inpatient neuro-oncology consultations requested by the neurology service; and the last 6 months doing four half-days in neuro-oncology continuity clinic and seeing all the inpatient neuro-oncology consultations. During the first 6 months the fellow will be expected to attend 40 neuropathology sign-out sessions and to attend 10 lectures of the Hematology/Oncology educational sessions. During the second 6 months the fellow will attend 10 half day attending neuroradiology reading sessions.
Second Year of Training
During the second year the fellow will become independent, in addition to having more time to develop and pursue scholarly and academic activities. In addition to spending three half-days in neuro-oncology continuity clinic s/he will have the opportunity to do clinical and basic science.
Core Faculty Members
The University of Virginia Health System has a full range of neurological subspecialist serving diverse patients in various inpatient and outpatient settings. Our faculty has diverse interests and skills to meet the depth and the breadth of educational needs of the fellows. Fellow education is also provided by our colleagues in medical oncology, neurology, neuroradiology, neuropathology, neurosurgery, radiation oncology, neuro-ophthalmology, physical medicine and rehabilitation, and palliative care.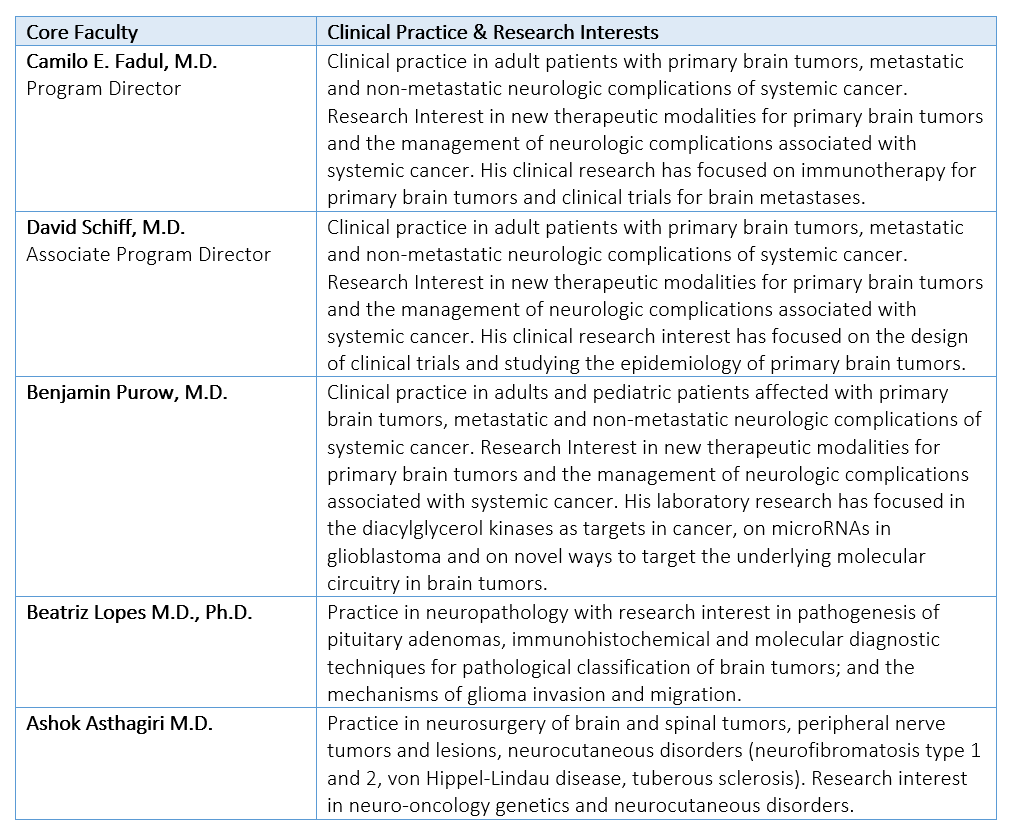 Current Fellows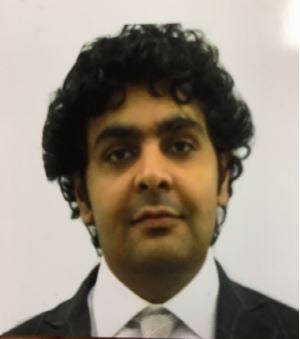 Mossaed Alyahya, MD
2019 – 2021
Residency: University Hospitals Cleveland Medical Center (Neurology)
Medical School: King Khalid University College of Medicine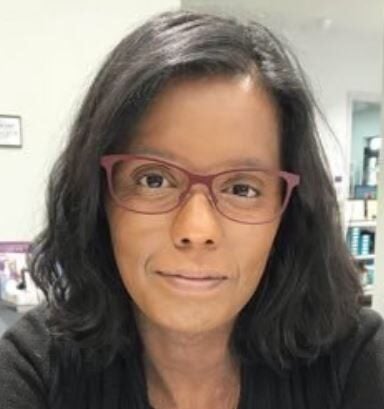 Lalanthica Yogendran, MD
2020 – 2022
Residency: University of Arizona (Neurology)
Medical School: St. George's University School of Medicine
Former Fellows
Haroon Ahmad, MD
2017 – 2019
Current employment: University of Maryland Medical Center
Kester Phillips, MD
2016 – 2017
Current employment: Ivy Center for Advanced Brain Tumor Treatment, Swedish Neuroscience Institute
Alicia Zukas, MD
2014 – 2016
Current employment: VCU Medical Center
Jasmin Jo, MD
2011 – 2013
Current employment: East Carolina University
Dawit Aregawi, MD
2006 – 2009
Current employment: Penn State Health
Arnaldo da Silva, MD
2005 – 2006
Current employment: Palm Beach Neurology
Robert Cavaliere, MD
2003 – 2005
Current employment: Baptist MD Anderson Cancer Center
Publications During Fellowship
Cavaliere R, Schiff D. Epidural Spinal Cord Compression. Curr Treat Options Neurol. 2004;6(4):285-95.
Cavaliere R, Lopes MB, Schiff D. Low-grade gliomas: an update on pathology and therapy. Lancet Neurol. 2005;4(11):760-70.
Cavaliere R, Schiff D. Fatal pulmonary embolism despite an inferior vena cava filter in glioblastoma multiforme. Neurocrit Care. 2005;3(3):249-50.
Cavaliere R, Farace E, Schiff D. Clinical implications of status epilepticus in patients with neoplasms. Arch Neurol. 2006;63(12):1746-9.
Cavaliere R, Schiff D. Cerebral metastases–a therapeutic update. Nat Clin Pract Neurol. 2006;2(8):426-36.
Cavaliere R, Schiff D. Neurologic toxicities of cancer therapies. Curr Neurol Neurosci Rep. 2006;6(3):218-26.
Cavaliere R, Schiff D. Chemotherapy and cerebral metastases: misperception or reality? Neurosurg Focus. 2007;22(3):E6.
Cavaliere R, Wen PY, Schiff D. Novel therapies for malignant gliomas. Neurol Clin. 2007;25(4):1141-71.
Aregawi DG, Sherman JH, Douvas MG, Burns TM, Schiff D. Neuroleukemiosis: case report of leukemic nerve infiltration in acute lymphoblastic leukemia. Muscle Nerve. 2008;38(3):1196-200.
Aregawi D, Lopez D, Wick M, Scheld WM, Schiff D. Disseminated strongyloidiasis complicating glioblastoma therapy: a case report. J Neurooncol. 2009;94(3):439-43.
Aregawi DG, Sherman JH, Douvas MG, Burns TM, Schiff D. Case of the month: leukemic nerve infiltration. Muscle Nerve. 2009;39(3):413-4.
Gaughen JR, Bourne TD, Aregawi D, Shah LM, Schiff D. Focal neuronal gigantism: a rare complication of therapeutic radiation. AJNR Am J Neuroradiol. 2009;30(10):1933-5.
Sherman JH, Aregawi DG, Lai A, Fathallah-Shaykh HM, Bierman PJ, Linsky K, et al. Optic neuropathy in patients with glioblastoma receiving bevacizumab. Neurology. 2009;73(22):1924-6.
Jo J, Schiff D. Management Strategies in Low Grade Glioma. Neuro-oncology Learning Portfolio on Medscape Oncology Clinical Review, Medscape Education, May 2012
Jo J, Schiff D, Purow B. Angiogenic inhibition in high-grade gliomas: past, present and future. Expert Rev Neurother. 2012;12(6):733-47.
Jo J, Schiff D. Metastatic Disease and the Nervous system. Chapter 26 in Aminoff's Neurology and General Medicine, Fifth Edition 2014: pp 539-562
Jo JT, Schiff D, Perry JR. Thrombosis in brain tumors. Semin Thromb Hemost. 2014;40(3):325-31.
Jo J, Williams B, Smolkin M, Wintermark M, Shaffrey ME, Lopes MB, et al. Effect of neoadjuvant temozolomide upon volume reduction and resection of diffuse low-grade glioma. J Neurooncol. 2014;120(1):155-61.
Jo J, Schiff D. Complications of Cancer Treatment. Section 13 Chapter 105 in Merritt's Neurology, 13th edition 2015: pp 912-917
Jo J, Schiff D. Brain Metastases. Chapter 141 in Neoplastic and Paraneoplastic Disease section, Neurobiology of Disease, 2nd edition 2016: pp 1011-1022
Jo JT, Schiff D. Management of neuro-oncologic emergencies. Handb Clin Neurol. 2017;141:715-41.
Phillips KA, Gaughan E, Gru A, Schiff D. Regression of an intramedullary spinal cord metastasis with a checkpoint inhibitor: a case report. CNS Oncol. 2017;6(4):275-80.
Raper DM, Zukas AM, Schiff D, Asthagiri AR. Geographically Remote Cerebral Venous Sinus Thrombosis in Patients with Intracranial Tumors. World Neurosurg. 2017;98:555-62.
Phillips KA, Fadul CE, Schiff D. Neurologic and Medical Management of Brain Tumors. Neurol Clin. 2018;36(3):449-66.
Zukas AM, Schiff D. Neurological complications of new chemotherapy agents. Neuro Oncol. 2018;20(1):24-36.
Ahmad H, Jo J, Gaughan E, Fadul CE. Neurologic Toxicities from Immunotherapy. Chapter 10 in SITC's Guide to Managing Immunotherapy Toxicity. Part II – Specific immune checkpoint inhibitor toxicities. 2019, pp 133-158
Ahmad H, Fadul CE, Schiff D, Purow B. Checkpoint inhibitor failure in hypermutated and mismatch repair-mutated recurrent high-grade gliomas. Neurooncol Pract. 2019;6(6):424-7.
Ahmad H, Martin D, Patel SH, Donahue J, Lopes B, Purow B, et al. Oligodendroglioma confers higher risk of radiation necrosis. J Neurooncol. 2019;145(2):309-19.
Ahmad H, Schiff D. Multimodality Therapy of Patients with Refractory Meningiomas. Curr Treat Options Oncol. 2019;20(6):50.
Jo J, Nevel K, Sutyla R, Smolkin M, Lopes MB, Schiff D. Predictors of early, recurrent, and intractable seizures in low-grade glioma. Neuro-Oncology Practice. 2020.
Diaz M, Jo J, Smolkin M, Jane Ratcliffe S, Schiff D. Risk of Venous Thromboembolism in Grade II-IV Gliomas as a Function of Molecular Subtype. Neurology. 2020.
The University of Virginia Neuro-Oncology Center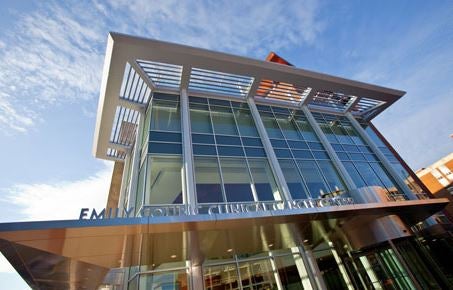 The University of Virginia Neuro-Oncology Center was created in 2002 and is an interdisciplinary effort with Neurology, Neurological Surgery, Neuropathology, Radiation Oncology, and Neuroradiology participation. The Center is a leader in primary brain tumor clinical trials and played an important role in the approvals of bevacizumab and the Optune device for glioblastoma as well as the use of rituximab in primary central nervous system (CNS) lymphoma. Additional subspecialty clinics focus on CNS metastatic disease, the phakomatoses, and pediatric brain tumors.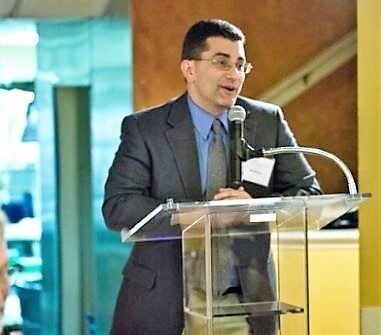 The Neuro-Oncology Center has a wide geographic referral base with approximately 400+ new cases every year. Clinicians work closely with several brain tumor translational research labs investigating microRNA, signal transduction inhibitors, immunotherapy, and brain tumor animal models. The University of Virginia Cancer Center is a National Cancer Institute-designated cancer center, being in the forefront in cancer research, prevention, detection and treatment.
Charlottesville, Virginia
Charlottesville is a small, thriving city with a population of 50,000; the local area population is 145,000. Charlottesville is two hours from Washington, DC. There are few places in the United States that combine a picturesque and cultivated countryside that is so rich in historical associations with the proximity of a national park and a wide array of cultural opportunities. Charlottesville is home to Thomas Jefferson's home, Monticello, and the college he designed, the University of Virginia.