Photos & Images
About
WordPress Training
Sign up for WordPress Training/Work Sessions, held each Thursday in the Health Science Library.
Learn More
Quality photography and imagery are important elements on any webpage. The right photo can capture the user's attention and help them better connect to the content on the page.
Photos can also impact Search Engine Optimization (SEO) and the time it takes for your website to load as well.
Below are some resources and guidelines that will help when preparing images for your website.
WordPress Training
Sign up for WordPress Training/Work Sessions, held each Thursday in the Health Science Library.
Learn More
Cropping & Reducing Image Size
Digital cameras, and some phone cameras, frequently provide images that are too large to post on the web. Raw images from cameras have a LOT more pixels and a LOT more data in them than are needed for web viewing. Websites work better when images are sized and optimized properly for screen viewing.
We don't all have Photoshop or know how to use it and not all of us have a department budget to buy software. Here are some tools that can get you going with image optimization without any new software whatsoever.
Image Sizes for Page Builder Blocks
For the Page Builder blocks, as well as the main banner on the homepage, it's important to use the correct dimensions.
Page Builder Block
Dimensions
Hero/Banner Image
1920 x 500px
Media Call Out Banner
595 x 376px
3 Column Call Out Boxes

456 x 290px
Faculty/Resident/Fellow Listing

Portrait: 240 x 325 pixels. After uploading to the Media Library you will be able to choose multiple preset sizes such as Full, Medium, and Variable Width.

Square: 250 x 250 pixels. In the Media Library, Medium and 150 x 150 are the best options.
Captioned Content
No larger than 430px in any direction. Good ratio: 430 x 290px
Gallery Slide Show
Recommended maximum size: 1055x1055px. For best results, all images should be same size
Standard for Internal pages (converts well to WP image display settings "thumbnail" and "medium")
755 x 540px
Check out our Style Guide for additional sizing and style info.
Reducing Image Size (No Cropping)
The following free tools will allow you to keep your photo as-is, but reduce its size for the web.
CompressNow: If all you want to do is reduce the size of the image for the web, but not crop it, then CompressNow is just about the coolest thing out there. Simple, simple, simple. You upload the image to the browser, hit "compress now" and it compresses it right there for you to download. You can also do up to 10 at a time.
ShrinkPictures: As with CompressNow, this is a free online tool where you upload an image and it compresses it for you.
Another option is to make sure you save the image as a .JPG and not .PNG files. Jpg's compress the image and gets rid of unnecessary information, while PNG's hold on to all of the images information, which takes up more space on your website.
Image Cropping
If you want to do more with your images, like crop them or manipulate color, Ribbet is a great option. This in-browser photo editing tool is free and enables you to crop, resize, and manipulate the image in your browser, and then download for use.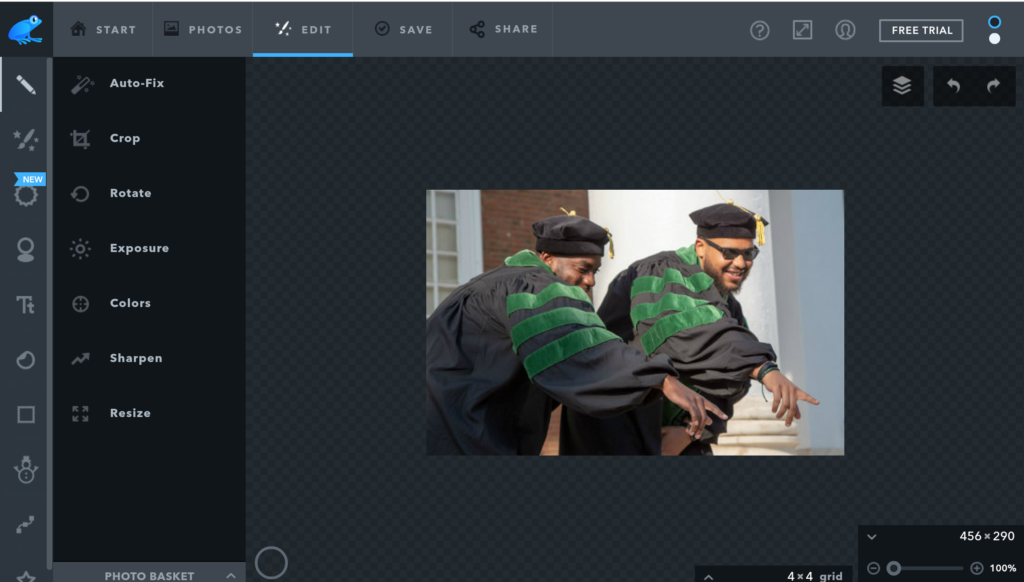 Another great resource for editing images is a free tool called,
RedKetchup
. This website features a variety of photo tools including image resizing, image compression, image conversion and more.
Don't have Photoshop?
Learn More at a Thursday Training Session
To learn more about optimizing images, please join us for one of our Thursday Word Press work sessions (sign up). If you are not able to attend on Thursdays, let us know and we can arrange to meet you personally at another time: