Annual Report: Community
The School's strong people-focused ethos is pervasive both inside the School of Medicine and outside, as we care for faculty, staff, students and alumni, and serve all Virginians with expertise, medical outreach, philanthropy and top-of-the-line clinical practices.
2021 – 2022 By The Numbers
168
Faculty and Student volunteers at Charlottesville Free Clinic
47 M
Average annual philanthropic support
1
Homeless Consult Service
To Serve Homeless Patients
UVA medical center consult service started by medical student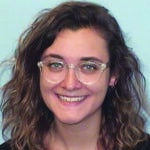 An innovative program started by a UVA medical student has grown into a service at the UVA Medical Center that not only is giving medical students unique hands-on experience, it also is helping patients who experience homelessness get connected with resources and care upon discharge.
The Inpatient Homeless Consult Service was launched by Jacqueline Carson, UVA MD/MPH 2022, as a pilot program with the Medicine and Family Medicine teams at UVA Medical Center. Trained medical student-advocates complete thorough assessments of referred individuals, and coordinate with other teams to connect patients with resources, such as an appropriate placement for discharge and assistance in obtaining housing, Medicaid, nutrition support, financial aid, transportation, durable medical equipment, cell phones, IDs, and clothing.
Fighting Health Disparity
The University of Virginia is partnering with community partners to fight health care disparity by reaching out to the medically underserved, one household at a time.
The multi-year initiative, called WellAWARE, is a joint effort by UVA's Primary Care Practices and its Office of Diversity and Community Engagement, along with the Charlottesville Free Clinic and Central Virginia Health Services. Trained front-line advocates are helping to provide neighborhood-level access to primary care and overcome obstacles to good health and healthcare.