Annual Report: Education
The UVA School of Medicine's innovative educational mission attracts the brightest and most diverse students and trainees from around the world, taught by passionate and nurturing faculty and staff.
"The UVA School of Medicine is preparing the next generation of the world's finest clinicians, researchers and thought leaders." ~ Meg G. Keeley, MD, Senior Associate Dean for Education
2021-2022 By The Numbers
96 th
Percentile MCAT Scores
Five Over Forty-Four!
School of Medicine training grants among only 10% in the country that have been funded continuously for nearly five decades.
At the UVA School of Medicine, we are proud to have 13 NIH T32 training grants that yield nearly $6 million each year. Not only that: five of these training grants have been continuously funded for over 44 years!
Less than 10% of NIH T32 grants across the United States can boast such longevity. Further, there are only five such grants in the country older than 48 years. (T32 indicates a category of funding.)
We celebrate the faculty principal investigators currently leading these long-lived grants!
The Training in the Pharmacological Sciences grant is 48 years old
(GM007055-48, Kevin Lynch, PhD).
The Basic Cardiovascular Research Training grant is 46 years old
(HL007284-46, Gary Owens, PhD and Brant Isakson, PhD).
The Infectious Diseases Training Program grant is 46 years old
(AI007046-46, Bill Petri, MD, PhD and Allison Criss, PhD).
The Cancer Research Training Program grant is 46 years old
(CA009109-46, Andrew Dudley, PhD and Amy Bouton, PhD).
The Medical Scientist Training Program grant is 44 years old
(GM007267-44, Dean Kedes, MD, PhD).
New Regional Campus Ramps Up Training in Fairfax's Urban State-of-Art Facilities
After years of planning, the new Inova campus for the School launched in March 2021. The fully accredited program partners with Inova Fairfax Medical Center, the largest hospital campus in the northern Virginia region. In its high-volume, urban setting, the regional campus provides diverse and fast-paced opportunities to medical students in the clinical phase of their training.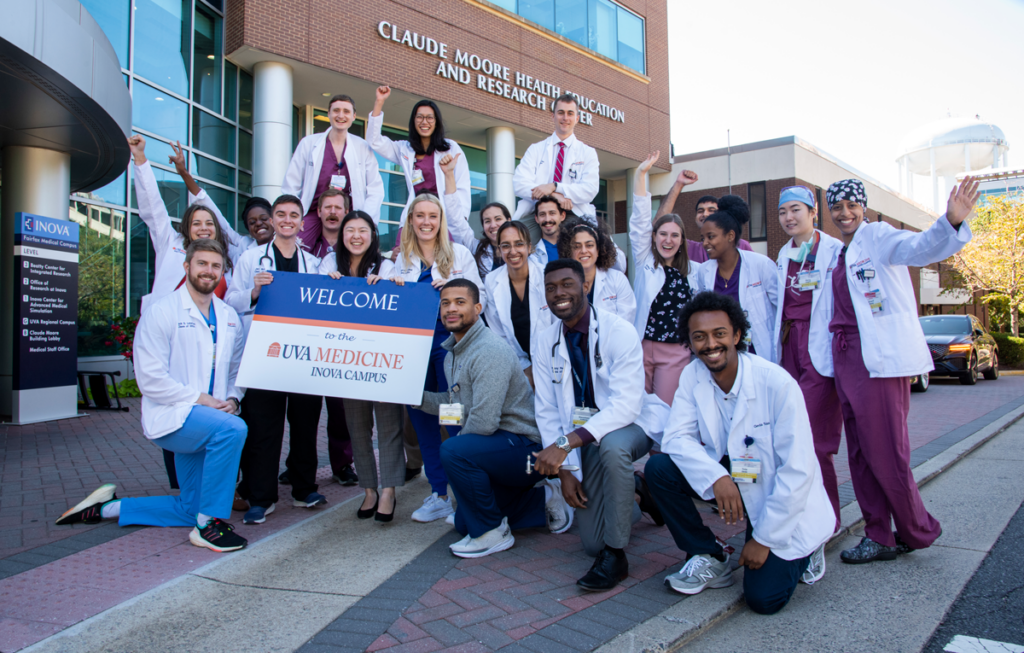 Inova's facilities include a 12,000 square-foot Claude Moore Education and Research Center. Its training capacity comprises an expansive medical simulation center, surgical simulation and advanced practice training space, and newly renovated amenities that provide inter-professional collaborative training and educational experiences. Access to a health sciences library is supported by an outstanding team of librarians is available 24/7.
Building Connection for BME Students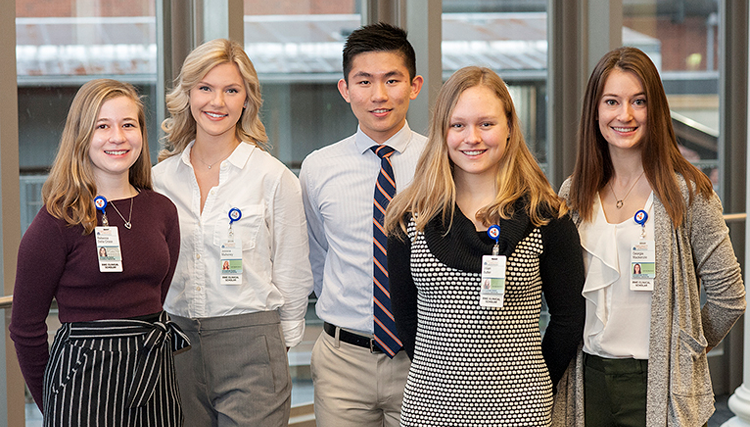 As part of an NIH grant, five undergraduates in the UVA Biomedical Engineering (BME) program have spent their summer outside the classroom and inside the clinical environment, learning firsthand how to engineer better healthcare.
The competitive BME Clinical Scholars program brings students into the operating room, clinics, inpatient wards, and the emergency department while being mentored by third-year medical students. They identify engineering opportunities and develop curriculum for other BME students to use in the classroom.
UVA a national leader in Medical Student EPA program
The University of Virginia School of Medicine is a national leader among the few medical schools that have fully implemented a curriculum-wide core entrustable professional activity (EPA) program. The guidelines published by the American Association of Medical Colleges ensure competency in 13 skills that all medical students should be able to perform upon entering residency with indirect supervision. Students are directly observed and assessed on these skills by faculty, residents, and fellows in authentic workplace-based settings throughout the UVA curriculum.