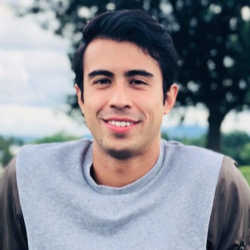 A fascination with uncovering the unknown motivates Chris Medina's work in the Ravichandran Lab. His drive to make scientific discoveries leading to advancements in health and disease led him to publish 10 papers during his graduate school tenure, including first-author papers in Nature (2020) and Cell Death and Differentiation (2016).
On May 1, Chris' accomplishments earned him the 2020 Michael J. Peach Outstanding Graduate Student Award. This annual award is made to a graduate student who embodies enthusiasm for research and the principles of sharing and collaboration.
We asked Chris to tell us about his research and his hopes for the future. Here's what he said.
Tell us about your research.
"My research focuses on the intercellular signaling properties of Pannexin 1 channels. More specifically, I am trying to understand the specific metabolites that are released from Panx1 channels during the process of apoptosis and how the secreted signals can regulate inflammation. Additionally, I am interested in understanding the crosstalk between T cells and how Panx1 may play a role during T cell suppression to influence disease outcomes."
What are your future goals?
"My future goal is to eventually run my own lab at an academic institution."
Congratulations on winning this award, Chris!