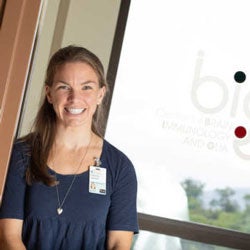 Cat Lammert, a PhD Candidate in the John Lukens Lab, received the 2020 Jill E. Hungerford Prize in Biomedical Sciences on May 1, 2020. This award is given annually to a doctoral student who exemplifies a commitment, achievement, and passion for research aimed at broadening scientific knowledge.
We asked Cat to tell us about her research and her hopes for the future. Here's what she said.
Tell us about your research.
"My projects all center around investigating the role of inflammation in neurodevelopment. Throughout my graduate career I have investigated both how lack of innate immune signaling and how overactive immune signaling are detrimental to neurodevelopment. Through our research, we have found that a strong immune response in the mother while pregnant can increase the likelihood of having a child with ASD (Autism Spectrum Disorder).  In addition, our studies have shown that innate immune signaling is crucial in neurodevelopment.  We have found that the DNA sensor, AIM2, is necessary for neurodevelopment as it promotes the removal of genetically compromised cells.  As with most biological systems, neurodevelopment requires a careful balance of immune signaling in order to establish and maintain properly formed connections and functions."
What drives or motivates your scientific pursuits?
"My scientific pursuits are driven by curiosity and a desire to advance our understanding of biological processes in order to improve medical treatments."
What are your future goals?
"Currently, I am pursuing a postdoc.  I hope to continue to conduct research in the field of neroimmunology."
Congratulations on winning this award, Cat!
Photo credit: Dan Addison | UVA Communications. Used with permission.