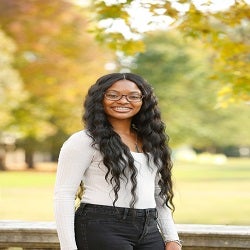 Nadia Holness in partnership with her dissertation adviser, Dr. Sarah Ewald, was awarded a Gilliam Fellowship from the Howard Hughes Medical Institute (HHMI) in September of 2022.
The Gilliam Fellowship program recognizes pairs of dissertation advisers and their graduate students who have "exceptional potential, commitment and imagination." An important criteria for these awards is the commitment of the institution and the adviser to "creating a healthy academic ecosystem and the student's potential for scientific leadership."
Nadia is a first-generation college student who received her Bachelor of Science degree from Hampton University, a historically black university in Virginia. She joined Hampton wanting to pursue a career in dentistry. While learning about oral bacterial diseases, Nadia developed an interest in studying the interaction between humans and their microbial community. As she dove deeper into microbial research, she found her niche in parasitology. Working with Dr. Ewald in the UVA's School of Medicine Biomedical Sciences Ph.D. program, she has joined a group that focuses on how the body recognizes infectious organisms and utilizes various regulators to escalate or dampen inflammation in response to these organisms. Their model organism is Toxoplasma gondii, which has a long evolutionary relationship with both rodents and humans. Nadia's research focuses on the intracellular crosstalk between T. gondii and the infected host cell that can promote or hinder parasite survival within its vacuole. Her project specifically aims to understand how T. gondii is recognized intracellularly and effectively cleared within murine immune cell types. Understanding the key proteins involved in the intracellular recognition of the parasite will ultimately allow her to resolve how some parasites evade immune detection to establish chronic infection within their host. When asked what motivates her scientific pursuits, Nadia responded that, as an African American first-generation student, exposure to educational opportunities and having mentors who believed in her ability to succeed were highly pertinent as she navigated her education path. Prior to her arrival at Hampton University, she had heard of a Ph.D., but didn't know what pursuing this path would entail. Faculty mentors there advocated for her to pursue her first research internship. This advocacy changed her career trajectory and laid the groundwork for her scientific pathway to graduate school. She knew she wanted to be a scientific researcher and educator and, as she advanced through her scientific programs, she found her niche in microbiology. She notes that microbes in the world are small but mighty in that they shape the world in which we live today. In parallel to her studies, Nadia has pursued her passion to aid the advancement and retention of others in scientific education. When she started graduate school, she was struck by the small number of students and faculty who looked like her. She has witnessed her peers of color leaving their programs, as they feel as though graduate school is just not for them due to the rigorous scientific culture. She wants to combat this narrative as a professor who can promote the retention of students of varying backgrounds within the graduate programs. Nadia believes that we are products of our environment, so she wants to foster an inclusive scientific community that will generate confident, supportive, and successful scientists. She is already working towards these goals, leading local efforts to promote a diverse and inclusive learning environment within her department and the resident Immunology Center at the University of Virginia (UVA). The support of the Howard Hughes Medical Institute Gilliam Fellowship for Advanced Study will allow Nadia and her adviser to work together on approaches to create healthier academic ecosystems.