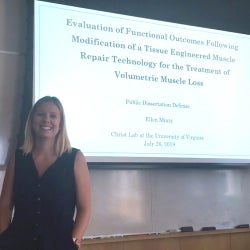 Ellen Mintz graduated in the summer of 2019 with a degree in Experimental Pathology.  She was the first student to join the lab of George Christ when he moved to the Biomedical Engineering department at UVA in 2014.  Her project was on "Evaluation of Functional Outcomes Following Modification of a Tissue Engineered Muscle Repair Technology for the Treatment of Volumetric Muscle Loss".  This project was a continuation of the work done in George Christ's former lab at Wake Forest University.
In her work, Ellen was able to explore some of the regenerative mechanisms following treatment with the therapy she studied, and that her project probed some of the current challenges of tissue engineered treatments in a specific injury model of volumetric muscle loss.  Her work was accepted for publication in Tissue Engineering.
Ellen has always been interested in working for the government and she will soon be beginning a new position as a Presidential Management Fellow at the National Cancer Institute (NCI).  This is a rotational position with the goal of finding a home within the federal government at the end of the two year fellowship.  She doesn't know what type of position she would like at that time, but by then, she will meet a lot of people and learn more about what kind of work is going on around her.
Ellen says that she will miss the people that she worked with here in BIMS and that she always felt that UVA was a warm and welcoming place.