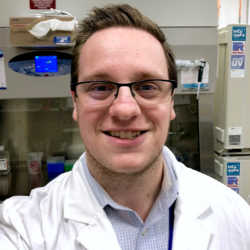 Joshua Milstein, a Neuroscience Graduate Program (NGP) second year in Dr. Heather Ferris' lab, has won a "Double Hoo" research award. The award funds research collaborations between undergraduate and graduate students. Each project receives up to $6,000 toward research expenses, funded through the Robert C. Taylor Fund.
Emily Bian, a second-year undergraduate neuroscience student, shares this award with him as they seek to clarify the role cholesterol likely plays in the development of Alzheimer's disease.
Read more about the Double Hoo award in the 5/19/20 edition of UVA Today.