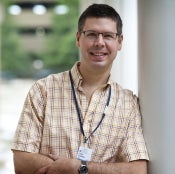 The findings by UVA's Loren Erickson, PhD, and his team offer important insights into why otherwise healthy people can enjoy meat all their lives until a hot slab of ground beef or a festive Fourth of July hot dog suddenly become potentially life-threatening. Symptoms of the meat allergy can range from mild hives to nausea and vomiting to severe anaphylaxis, which can result in death.
"We don't know what it is about the tick bite that causes the meat allergy. And, in particular, we haven't really understood the source of immune cells that produce the antibodies that cause the allergic reactions," Erickson explained. "There's no way to prevent or cure this food allergy, so we need to first understand the underlying mechanism that triggers the allergy so we can devise a new therapy."
Erickson describes the new meat allergy model in an article in the Journal of Immunology. The research team consisted of Jessica L. Chandrasekhar, Kelly M. Cox, William M. Loo, Hui Qiao, Kenneth S. Tung and Erickson. Tung and Erickson are both part of UVA's Carter Center.
Read more in Newsroom, 8/20/19.