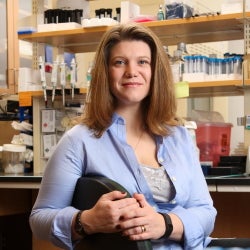 UVA biomedical engineering professor Kimberly Kelly founded ZielBio to bring new cancer treatments to market. (Photo by Dan Addison, University Communications)

In her previous post as an assistant professor at Massachusetts General Hospital, University of Virginia biomedical engineering professor Kimberly Kelly discovered something unusual about cancer cells. Many of them have plectin – a protein normally found in cells' interior cytoskeletons– on their surface.
"We don't know how plectin gets on the surface of cancer cells, but we do know that it is necessary for the cancer to grow and metastasize," said Kelly.
That, of course, makes it a prime target for researchers, like Kelly, who are searching for a cure. And, it's a big reason that the Charlottesville-based biotechnology company she founded, ZielBio, closed an extraordinary $25.1 million in Series A financing late last month.
More info in UVA Today, 10/2/19