POISON JEOPARDY! program for teens and adults
POISON JEOPARDY! for teens and adults is a fun, interactive game based loosely on the Jeopardy! game show to teach poisoning prevention concepts that affect teens and young adults, including scenarios that lead to teen and adult poisoning, how substances of abuse affect the body, and how to take medicine safely. It also discusses childhood poisoning prevention and poisons found in nature. The ideal format is a classroom of students with an instructor who leads the activity.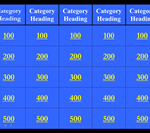 The program requires the ability to show a PowerPoint presentation to the class, either in person or virtually. (NOTE: At this time, the program runs well on a PC but not on a MAC.) Don't forget to order some magnets, stickers, or other give-aways to distribute to your class after the lesson. Return to our home page to order your supplies. Please allow about 3 weeks for delivery.