Clinical Training
The UVA Hematology-Oncology fellowship program trains fellows to provide high-quality patient care across all areas in hematology and medical oncology. The first year consists of an intensive clinical experience with both inpatient ward/consult services and outpatient rotations. The second and third years of fellowship are tailored to provide adequate training to meet each fellow's individual career goals.
Fellows complete a minimum of 18 months of full-time clinical training across hematology and medical oncology and maintain an outpatient continuity clinic throughout fellowship. Continuity clinics are 6 or 12 months in duration in specialized disease teams.
Clinical training requirements are met through the following rotations:
Inpatient malignant hematology service
Inpatient benign hematology consult service
Inpatient oncology consult service
Disease-specific continuity clinic
Elective ambulatory block clinic electives
Transfusion medicine and coagulation
Hematopathology
Inpatient Malignant Hematology Service
The ward attending and fellow work closely with residents to provide optimal care to patients with a variety of malignant hematologic disorders and those undergoing stem cell transplantation. Responsibilities include overseeing the daily care of all patients on service by serving as a consultant to house officers and liaison with faculty and staff. Fellows are expected to provide regular teaching during rounds and didactic sessions. Second and third year fellows are expected to manage rounds with attending oversight. Consultations for malignant hematologic conditions are evaluated by the fellow and attending physician team. Teaching service fellows perform bone marrow aspirations/biopsies on service patients as needed.
Inpatient Oncology Consult Service
The oncology consult service involves evaluating and discussing inpatient oncology consultations with a disease-specific faculty member. Fellows review pathology, imaging scans and laboratories on all consults. The consult fellow communicates follow-up care plans with the appropriate UVA oncologist or local provider. When residents rotate through the oncology service, the fellow is responsible for supervising resident care and providing education. Fellows are not responsible for managing the inpatient resident oncology service, which is led by an attending only.
Inpatient Benign Hematology Consult Service
On the inpatient benign hematology consult service, fellows provide inpatient consultations for a variety of benign hematologic conditions such as bleeding or thrombotic disorders, cytopenias, hemolytic anemias and hemoglobinopathies. Fellows lead daily rounds with the supervision of a hematology attending, and provide consulting teams with recommendations. Hematology consult fellows regularly interpret/discuss peripheral blood smears and perform bone marrow aspirations and biopsies when necessary. The hematology consult fellow supervises and teaches the residents and students rotating on the service.
Outpatient Continuity Clinics
The continuity clinic provides a major portion of a fellow's education in the natural history and management of hematologic and oncologic disorders. Continuity clinic includes 1 half day per week in a disease-specific clinic. Continuity rotations occur at six to twelve (available to 2nd and 3rd year fellows) month intervals to allow for exposure to a variety of diseases and faculty throughout the training experience. During continuity clinic, first year fellows are expected to learn appropriate diagnostic evaluation and treatment regimens for each disease state and expand treatment options for refractory disease by the second/third year of fellowship. Fellows are expected to participate in disease-specific tumor boards to discuss cases with the multidisciplinary teams.
Disease-specific continuity clinics include breast, genitourinary, thoracic, gastrointestinal, cutaneous and head/neck, benign hematology, bone marrow transplant, leukemia and marrow failure, and lymphoma and myeloma.
Outpatient Block Electives
There are 3 required rotations in outpatient clinic: bone marrow transplant (1 month in the first year), hematopathlogy, and transfusion medicine and coagulation (1 month in the first year). Additional elective time in ambulatory clinics are spent in 1-2 month "blocks" including disease-specific clinics (see continuity clinics, above), radiation oncology, specialty diagnostic laboratories (immunology, flow cytometry, cytogenetics, molecular genetics), coagulation, gynecologic oncology, neuro-oncology, palliative care, and community oncology. Remaining elective time may be self-designed, but requires approval of curriculum, goals and evaluation method by the program director.
About the Program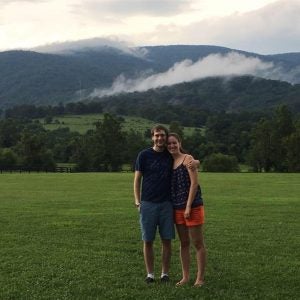 "UVA has provided me the mentorship, guidance, and experience that I sought out in a Hematology/Oncology Fellowship. It was very easy to find a passionate mentor who was willing to involve me in several projects. We meet on a weekly basis to dive into my career development and research productivity which makes me feel like he is fully invested and is ensuring my success in becoming an academic malignant hematologist. My wife and I have thrived in Charlottesville and enjoy tasting the wine and enjoying the beautiful mountains. Finally, my co-fellows have created an environment of support and friendship that makes fellowship enjoyable and fun."
– Daniel Reed, 2nd year fellow