Fellowship Program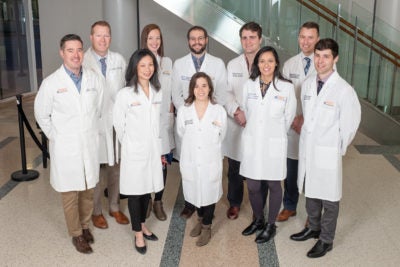 Thank you for visiting our University of Virginia hematology/oncology fellowship website. UVA is an NCI Designated Cancer Center and was ranked #30 among national cancer centers according to US New and World Report in 2018 (an increase from unranked in 2016 and #33 in 2017). Our hematology/oncology division has seen tremendous faculty growth over the past four years leading to significant growth in the clinical and research missions of the Cancer Center. The mission of our heme/onc fellowship program is to enable future hematology/oncology physicians to provide cutting edge, evidenced-based, and compassionate clinical care while promoting and developing a spirit or inquiry and discovery amid rapidly evolving treatment and practice landscapes.
Our program is a combined track program that offers a minimum of 18 months of clinical training spread over 3 years with up to 18 months of protected research time.  Fellows obtain clinical training through a combination of ambulatory clinical electives across all aspects of hematology and medical oncology, 2 inpatient consult services, the inpatient malignant hematology service, and variety of other clinical rotations. Fellows are expected to conduct high-quality research, which is supported by funding from the Farrow Fellowship Endowed Fund. All first year fellows apply for a Farrow award to support research related activities during their fellowship training. We have a robust didactic curriculum that combines case conferences, disease-specific lectures given by faculty and fellows, tumor boards, journal clubs, and special conference series throughout the year.
We are proud of our program and proud to be a part of the UVA Cancer Center and Department of Medicine at the University of Virginia. Please use the links on this webpage to learn more about the structure and content of our program, who we are, and why we love living in beautiful Charlottesville, Virginia. We welcome all applicants to consider completing their hematology/oncology training at the University of Virginia and appreciate your visit to this webpage.