Education
Hematology and Oncology Fellowship Program
Thank you for visiting the University of Virginia hematology/oncology fellowship website. The mission of our program is to train future hematology/oncology physicians to provide cutting-edge, evidence-based, and compassionate clinical care while promoting a spirit of inquiry and discovery amid rapidly evolving treatment and practice landscapes.
The University of Virginia Cancer Center is an NCI-designated Comprehensive Cancer Center. UVA Health and Hospital have recently been ranked as the #1 hospital in Virginia. Our Division of Hematology/Oncology, a part of the Department of Medicine, has been vital to many clinical programs and growth across UVA Health. We've grown tremendously in the past decade – both in the number of faculty, clinical trial accrual, and overall clinical activity.
Our hematology/oncology fellows are central to our clinical, education, and research missions. Our fellowship is a dual hematology/oncology track with a minimum of 18 months of clinical training spread over three years with up to 18 months of protected research time. We accept four fellows per year into our combined hematology/oncology training program.
Clinical rotations occur in outpatient clinical settings across various specialized disease teams, two inpatient consultation services, and our inpatient malignant hematology service. We also offer rotations in clinics outside the division of hematology/oncology, such as palliative care, gynecology-oncology, radiation oncology, and neuro-oncology.
Fellows are expected to conduct high-quality research supported by funding from multiple endowed research funds. First-year fellows participate in a clinical research curriculum and are exposed to faculty mentorship opportunities early in training.  Our fellows participate in a robust didactic curriculum that combines case conferences, disease-specific lectures given by faculty and fellows, tumor boards, journal clubs, and special conference series throughout the year.
We are exceptionally proud of our program and proud to be a part of the UVA Cancer Center and Department of Medicine at the University of Virginia. Please use the links on this webpage to learn more about the structure and content of our program, who we are, and why we love living in beautiful Charlottesville, Virginia.
We welcome all applicants to consider completing their hematology/oncology training at the University of Virginia and appreciate your visit to this webpage.
---
UVA does not discriminate on the basis of age, race/ethnicity, color, national/ethnic origin, disability, political affiliation, religion, sex (including pregnancy), sexual orientation, gender identity, marital status, veteran status, or family medical or genetic information. Individuals from underrepresented groups are highly encouraged to apply.
The UVA Hematology-Oncology fellowship program trains fellows to provide high-quality patient care across all areas of hematology/oncology.
The first year of fellowship consists of a robust clinical experience with three hospital-based rotations (malignant hematology inpatient, non-malignant hematology consults, and medical oncology consults) mixed with outpatient clinic-based rotations.
The second and third years of fellowship are comprised primarily of outpatient clinical rotations and dedicated research time, with only several months of inpatient rotation time spread over both years. This design allows significant flexibility for fellows to tailor training to their individual career goals.
Throughout all three years of fellowship, fellows work in a disease-specific continuity clinic for six or 12 months (third-year fellows only).
As a combined hematology/oncology fellowship program, our fellows complete a minimum of 18 months of full-time clinical training across malignant hematology, non-malignant hematology, and medical oncology.
Outpatient clinical electives
Fellows can participate in various outpatient clinic electives throughout their fellowship. These electives are typically either 4 or 8 weeks in length. These disease-focused electives aim to provide fellows with an immersive and concentrated experience with expert clinical training in a given field. During an outpatient clinical elective, fellows typically attend four half-day clinic sessions and the disease-specific tumor board in addition to their continuity clinic and educational conferences.
Breast Oncology
Community Oncology
GI Oncology
GU Oncology
Leukemia and marrow failure
Malignant hematology potpourri (3rd years only)
Medical oncology potpourri (3rd years only)
Melanoma and HNSCC oncology
Myeloma and lymphoma
Classical (non-malignant) hematology
Stem cell transplant (required of 1st-year fellows)
Thoracic Oncology
Outpatient Continuity Clinic
The continuity clinic provides a major portion of a fellow's education in the natural history and management of hematologic and oncologic diseases. Continuity clinic includes one half day per week in a disease-specific clinic. Continuity rotations occur at six or twelve-month intervals (12-month clinics are available only to 3rd-year fellows).
During continuity clinic, 1st-year fellows are expected to learn appropriate diagnostic evaluation and treatment regimens for each disease state and expand treatment options for refractory disease by the 2nd and 3rd year of fellowship. Fellows are expected to participate in disease-specific tumor boards and other disease-specific research meetings or didactic conferences.
Procedural Training
All our fellows are trained to perform bone marrow biopsies and aspirates. First-year fellows participate in hands-on training in a simulation lab and then perform their first bone marrow biopsies with close faculty or APP supervision before being signed off to independently perform bone marrow biopsies and aspirates.
Inpatient clinical rotations
Fellows work on the following inpatient rotations throughout the fellowship, though most of their inpatient coverage time occurs during the 1st year. There are approximately six rotations during the first year (each rotation is typically four weeks) and four rotations spread over the remainder of the fellowship.
Inpatient Malignant Hematology Teaching Service
On this rotation, the fellows manage a wide range of malignant hematology patients with internal medicine residents and a malignant hematology attending. The teaching service combines acute leukemia patients undergoing induction therapy, receiving cellular therapy such as CAR-T or allogeneic transplants, and receiving therapy for aggressive lymphomas or other serious hematologic diseases. In addition to the teaching service, there is a non-teaching service that manages routine chemotherapy admissions, autologous transplants, and additional allogeneic transplants.
Fellow responsibilities include overseeing the daily care of all patients on service by serving as a consultant to house officers and a liaison with faculty and staff. Fellows also work closely with pharmacy and hematopathology teams to coordinate treatment decisions. Second and third-year fellows are expected to manage rounds with attending oversight. The fellow and attending physician team provide consultations for patients with malignant hematologic conditions on other hospital services.
Inpatient Oncology Consult Service
The oncology consult service involves evaluating and managing inpatient oncology consultations with a disease-specific faculty member. Fellows are principally responsible for reviewing data such as pathology results, imaging, and labs to develop plans for patients with newly diagnosed solid tumor malignancies. The fellow also helps to coordinate follow-up care plans with the appropriate outpatient oncology team.
Inpatient Classical (non-malignant) Hematology Consult Service
On the inpatient benign hematology consult service, fellows provide inpatient consultations for various benign hematologic conditions such as bleeding or thrombotic disorders, cytopenias, hemolytic anemias, and hemoglobinopathies. Fellows lead daily rounds with the supervision of hematology attending and provide consulting teams with recommendations. Hematology consults fellows regularly interpret/discuss peripheral blood smears and perform bone marrow aspirations and biopsies when necessary. The hematology consult fellow supervises and teaches the residents and students rotating on the service.
TESTIMONIAL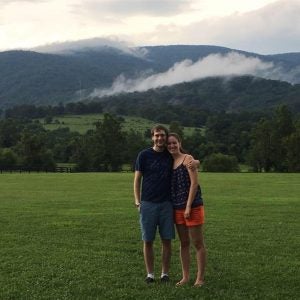 "UVA has provided me the mentorship, guidance, and experience I sought in a Hematology/Oncology Fellowship. It was very easy to find a passionate mentor who was willing to involve me in several projects. We meet every week to dive into my career development and research productivity, which makes me feel like he is fully invested and is ensuring my success in becoming an academic malignant hematologist. My wife and I have thrived in Charlottesville and enjoy tasting the wine and enjoying the beautiful mountains. Finally, my co-fellows have created an environment of support and friendship that makes fellowship enjoyable and fun."
– Daniel Reed, MD, 2020 graduate
The University of Virginia Cancer Center is the only NCI-designated Comprehensive Cancer Center in the Commonwealth of Virginia. As an NCI Comprehensive Cancer Center, fellows have ample opportunities to work with investigators in our hematology/oncology division and the broader institution.
The UVA Comprehensive Cancer Center is organized into four core programs. These programs allow physicians and scientists from across the university to collaborate on innovative research projects.
Fellow Research
As part of our mission to promote and develop a spirit of inquiry and discovery, fellows are introduced to research opportunities early in their 1st year. During the 1st year, fellows will have approximately 1-2 months of research time to identify a research mentor and plan and design their core research project for the following two years.
All first-year fellows participate in a clinical research workshop series where they practice important skills in grant writing, such as LOI development, preparing aims, and designing a research strategy. Their completed application is then used to apply for internal funding mechanisms that provide fellows with resources to conduct their core research project.
Examples of this funding include paying for support services such as Cancer Center core facility use, statistical support, conference and presentation support, and/or graduate course work.
During the remainder of the fellowship beyond the first year, the amount and structure of research time depend on whether a basic science, translational, or clinical research project(s) is chosen. Fellows also participate in a longitudinal clinical research series in which they learn to ask a scientific question, build a proposal, review statistical methods, and draft grant applications.
TESTIMONIAL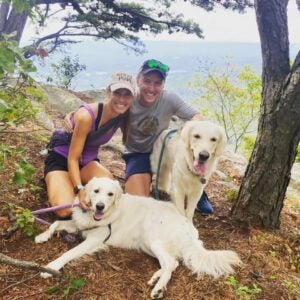 "In the landscape of graduate medical education, UVA and Charlottesville were as close to a utopia as I could have imagined. My three years as a Heme/Onc fellow were challenging, fun and career affirming. The work-life balance allowed my family and I ample time to experience all that this region has to offer – whether it was live music on the downtown mall, hiking in Shenandoah National Park or exploring the local winery/brewery scene, Charlottesville has it all. I graduated with friends for life and the knowledge and confidence to pass my boards and provide outstanding care."
-Christian Barlow, MD, 2022 graduate
The fellowship educational curriculum is anchored in clinical care and a wide range of lectures, case conferences, workshops, and training modules. These activities are a vital part of our hematology/oncology fellowship education. Almost all conferences are conducted with hybrid conference technology to allow fellows at off-site locations to participate.
The education curriculum is primarily composed of the following components:
Case conferences
Faculty-led didactics
Fellow led didactics
Workshops
Tumor boards
Journal clubs
Board review
Division Grand Rounds
Division M&M conference
Resources
Case conferences
There are monthly case conferences in malignant and non-malignant hematology and 2 – 3 medical oncology case conferences per month. During a case conference, one or more fellows typically present two patient scenarios and discuss pertinent imaging and diagnostic information along with the evidence to support a treatment decision. These conferences are primarily fellow-led and well-attended by faculty to facilitate critical thinking.
Faculty-led didactics
These are conferences led by faculty, comprising our "core" lecture series.  We follow a general pattern of annual lectures outlined below:
July – August:  orientation, special topics, non-malignant hematology
September – December: breast, GU, GI thoracic
January – April: malignant hematology and transplant / cellular therapies
April – June: less common solid tumors, other topics
Fellow led didactics
These are conferences produced by the fellows and scheduled throughout the year. Fellows typically give 1 – 2 talks annually, with faculty invited to attend.
Workshops
We have several workshops series throughout the year, including:
Quality improvement (QI) training lectures and working sessions
Our fellows participate in a longitudinal quality training program. First-year fellows are exposed to QI methodology and learn about ongoing projects. Late in the first year or early second year, each fellow joins an existing project or creates a project (typically in teams). They continue work on their project through the third year to present and/or publish their work by the end of the fellowship.
Resiliency sessions
Practicing hematology/oncology is a rich but often challenging field concerning our emotional and global well-being. We conduct a mix of journal club activities, book club, and lectures to guide discussions around our work's internal and corporate processing.
Clinical and translational research workshop
See our Scholarship link for more information about this workshop
Tumor boards
We have multiple weekly tumor boards that bring together multi-disciplinary colleagues from surgery, radiology, radiation oncology, pathology, and other medical subspecialties to discuss complicated patient presentations and provide consensus treatment recommendations. Fellows commonly attend the tumor board corresponding to their continuity clinic and are expected to present patients during tumor board discussions.
Journal Clubs
We typically have at least one fellow-led journal club per month corresponding to a disease group lecture series to review recent articles and/or conference presentations. These are often less formal discussions and are sometimes held off-site with an informal gathering feel.
Board review
Interspersed throughout each disease block of lectures, fellows typically have at least one board review sessions where a fellow selects a group of questions to discuss with the group. Disease-specific attendings commonly attend these sessions to facilitate understanding the question and provide context.
Division Grand Rounds
Our Division of Hematology/Oncology conducts a monthly lecture series where a colleague or an outside guest speaker presents a CME-accredited lecture to the faculty and larger division. In addition to our division grand rounds series, the Department of Medicine hosts a weekly grand round, and the UVA Cancer Center hosts a weekly seminar series during the academic year.
Division M&M conference
The Division of Hematology/Oncology hosts a monthly M&M conference where fellows typically present a patient from either their inpatient rotations or outpatient clinics. Some of our recent QI projects were developed from M&M discussions. The conference is viewed as a collaborative effort to improve our care delivery and identify opportunities to improve patient outcomes.
Resources
Fellows receive access to the ASCO Online Fundamentals and ASH Academy. Our program also pays for all fellows to take the annual in-training examinations in hematology (ASH) and oncology (ASCO) to identify areas of improvement in preparation for the board examinations. Lastly, we also identify resources to allow fellows to attend and/or present at national and international conferences.
TESTIMONIAL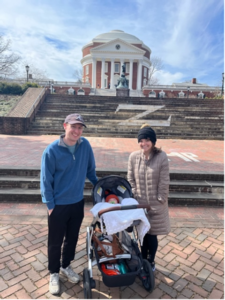 "My wife and I were new to Charlottesville when I started fellowship in July 2021, and we have loved getting to know the town, the vineyards, and Shenandoah National Park. UVA has meant a lot to us in our few years here. During my second year we had our son 8 weeks early and spent about a month in the UVA NICU. I felt incredibly supported by not only the hospital teams taking care of our son, but also the heme/onc program leadership, my attendings, and my co-fellows who went out of their way to make things easier on us. I've received well-balanced clinical training and have had every opportunity I could want for research and mentorship. I feel well-prepared for my future career as a hematologist and medical oncologist."
– Will Thomas, MD, Current Fellow
We are only able to accept international applicants who hold a J-1 visa.
How to Apply
This is a two-step process. Application is conducted through ERAS.  To apply to the program, you must complete the second step.
Enter ERAS application information anytime between June 8, 2023 – July 19, 2023. Documents will be accepted from ERAS only.
Submit your ERAS application to the specific institution of your choice (i.e., the University of Virginia). UVA begins reviewing applications on or after July 20, 2023.
All interviews will be held in September and early October 2023.
All interviews will conclude on or before October 15, 2023.
These documents are required in the ERAS system before we will evaluate your application.
Common application form
Personal statement
Medical school transcript
Three required (four recommended) letters of recommendation: one from your Program Director and 2 – 3 others from faculty at your present institution
Wallet-sized color photograph
USMLE transcripts
ECFMG status report (foreign medical graduates only)
Fellowship Education Contact Information
Living in Charlottesville
Learn More About UVA and Charlottesville
Links and videos to help you learn more about our program, UVA, and the Charlottesville area
Helpful Information
Charlottesville, Virginia, is a small, vibrant city settled in the foothills of the scenic Blue Ridge Mountains. We are located within a two hours drive of the Washington, DC region, Richmond, VA, and Roanoke, VA. The city and surrounding area host scenic, cultural, historical, and recreational activities. The naturally beautiful region boasts an educated workforce, strong school systems, excellent health care, and affordable, high-quality living.
Our hematology/oncology fellows enjoy many outdoor recreational activities, including nearby hiking and winter-time outdoor sports. There are numerous local restaurants to enjoy. Fellows frequently gather at the Cville Downtown Mall, which hosts a weekly summer concert series called "Fridays After Five" and a robust farmer's market on Saturdays. Fellows also enjoy weekend trips to many nearby families and pet-friendly wineries and breweries.
Charlottesville is consistently recognized and ranked highly for its livability and local amenities. The city has enjoyed rankings as #1 City in America" (Frommer's), "Best Place to Live Among Small Cities" (Money magazine), "Top Ten Cities That Have It All" (A&E TV), "40 Best College Towns…" (Outside), "Healthiest Place to Live" (Kiplinger), "Hottest for Fitness" (Newsweek), and "Best Place to Raise a Family" (Readers' Digest).
TESTIMONIAL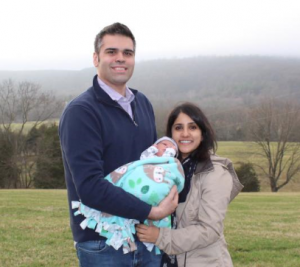 "Charlottesville has been a wonderful place to live for the past two years for my family and me. We have made life-long friends and have loved exploring all the beautiful vineyards, breweries, and hiking paths of the Shenandoah Valley. We love that we can participate in the UVA activities and enjoy the college-town feel. We also have plenty of options outside of the campus and are only a short distance away from the nation's capital. It is an extremely family-friendly city and constantly surprises us with all available."
– Puja Arora, MD, 2019 graduate
Learn More About UVA and Charlottesville
Links and videos to help you learn more about our program, UVA, and the Charlottesville area
Helpful Information