Fellowship Program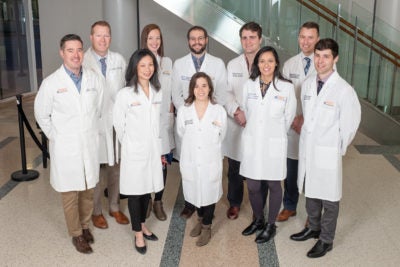 Thank you for visiting our University of Virginia hematology/oncology fellowship website. Our fellowship's mission is to train future hematology/oncology physicians to provide cutting edge, evidence-based, and compassionate clinical care while promoting and developing a spirit of inquiry and discovery amid rapidly evolving treatment and practice landscapes.
UVA is an NCI-Designated Comprehensive Cancer Center and is a US News & World Report Top 50 Cancer Center. Our hematology/oncology division has seen tremendous faculty growth since 2014 leading to expanded clinical programs. As such, our fellows are at the center of our patient care and research efforts. Their training over 3 years is wide and deep in its scope across the specialty.
Our fellowship program offers a dual hematology/oncology track with a minimum of 18 months of clinical training spread over 3 years with up to 18 months of protected research time.  Clinical rotations occur in outpatient clinical settings across a wide variety of disease teams, 2 inpatient consultation services, and the inpatient malignant hematology service. Rotations are also available in clinics outside the division of hematology/oncology.
Fellows are expected to conduct high-quality research, which is supported by funding from the multiple endowed research funds. Fellows participate in a clinical research curriculum throughout the year and have opportunities from faculty mentorship early in their training.
Lastly, our fellows participate in a robust didactic curriculum that combines case conferences, disease-specific lectures given by faculty and fellows, tumor boards, journal clubs, and special conference series throughout the year.
We are proud of our program and proud to be a part of the UVA Cancer Center and Department of Medicine at the University of Virginia. Please use the links on this webpage to learn more about the structure and content of our program, who we are, and why we love living in beautiful Charlottesville, Virginia. We welcome all applicants to consider completing their hematology/oncology training at the University of Virginia and appreciate your visit to this webpage.