Scholarship
The University of Virginia is the recipient of a NCI Cancer Center Support Grant. We highlight the following basic research programs:
The clinical research program focuses on drug discovery, including all phases of clinical trials. Faculty members in the hematology/oncology division are involved in the ECOG-ACRIN cooperative group as well as the Experimental Therapeutic Clinical Trial Network (ETCTN) through a collaboration with Johns Hopkins University.  Fellows gain experience in clinical trial methodology through a clinical research curriculum and through exposure to clinical trials through their continuity and elective block clinic time.
To learn more please visit the Cancer Center's Research Programs page.
Fellow Research
Participation in research and quality improvement during fellowship is required. During the first year of training, fellows will have approximately 1-2 months of research time in order to identify a research mentor, and plan and design their upcoming research for the following two years. The design of the last two years of training differs depending on whether a basic science, translational, or clinical research track is chosen. Fellows participate in bimonthly research workshops during which they learn to ask a scientific question, build a proposal, review statistical methods, and draft grant applications.
All fellows are encouraged to apply for the Farrow Oncology Fellowship award, an internal funding mechanism which supports fellow research projects, presentation at scholarly meetings or, if desired, participation in the Masters of Science in Clinical Research program. During the fellowship, each trainee is expected to present either a talk or poster session at a regional, state or national meeting.
List of Recent Hematology/Oncology Fellow Publications
Quality Improvement
Fellows participate in ASCO's Quality Oncology Practice Initiative (QOPI) on a semi-annual basis. Other quality improvement projects are encouraged throughout fellowship. Within the division, fellows have access to national leaders in the quality field as potential mentors. Several fellows have attended the ASCO Quality Training Program, and have presented their work at national quality meetings.
About the Program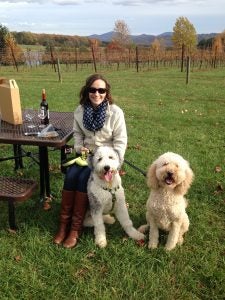 "When looking at fellowship programs, I knew that I wanted a program that provided me with strong mentors and the opportunity to truly engage in my learning and research experiences. This has definitely be the case at UVA. During my first year I applied for and won the Farrow Fellowship, which provided the funding necessary for me to design and initiate a phase 1 clinical trial at UVA.  This experience is extremely valuable for my career going forward and it would not have been possible without good mentorship."
-Trish Millard, MD, 2018 graduate