Michael E. Williams, MD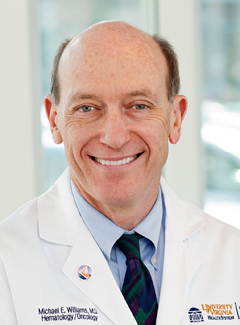 PRIMARY APPOINTMENT:
Byrd S. Leavell Professor of Medicine: Hematology and Oncology

CONTACT:
UVA Div. of Hematology-Oncology
PO Box 800716
Charlottesville, VA 22908
Telephone: 434.924.9637
Email: mew4p@virginia.edu
EDUCATION AND TRAINING:
Clinical Fellowship, Hematology, University of Virginia
Clinical Fellowship, Oncology, University of Virginia
Residency, Internal Medicine, University of Virginia
BS, Botany, Ohio State University
SM, Microbiology, Harvard University School of Public Health, Boston, MA
MD, Medicine, University of Cincinnati College of Medicine, Cincinnati, OH
RESEARCH INTERESTS:
Novel therapeutics for lymphoma, CLL, and other hematologic malignancies with a focus on Mantle cell lymphoma.
RESEARCH SUMMARY:
Dr. Williams' research interests include novel therapeutic approaches for non-Hodgkin lymphomas, mantle cell lymphoma, and CLL, including targeted agents and immunotherapeutics. He serves on the scientific advisory boards of the Lymphoma Research Foundation and the European Mantle Cell Lymphoma Network. He is vice-chair of the Eastern Cooperative Group Lymphoma Core Committee. He also serves as chair of the Hematology Subspecialty Board of the American Board of Internal Medicine and is an ABIM Council Member.
SELECT PUBLICATIONS:
Wagner LI, Zhao F, Hong F, Williams ME, Gascoyne RD, Krauss JC, Advani RH, Go RS, Habermann TM, Leach JW, O'Connor B, Schuster SJ, Cella D, Horning SJ, Kahl BS, Anxiety and health-related quality of life among patients with low-tumor burden non-Hodgkin lymphoma randomly assigned to two different rituximab dosing regimens: results from ECOG trial E4402 (RESORT)., 2015; Journal of clinical oncology: official journal of the American Society of Clinical Oncology. 33(7) 740-8. PMID: 25605841 | PMCID: PMC4334777
Viswanathan S, Williams ME, Bloss EB, Stasevich TJ, Speer CM, Nern A, Pfeiffer BD, Hooks BM, Li WP, English BP, Tian T, Henry GL, Macklin JJ, Patel R, Gerfen CR, Zhuang X, Wang Y, Rubin GM, Looger LL, High-performance probes for light and electron microscopy., 2015; Nature methods. 12(6) 568-76. PMID: 25915120
Wang ML, Blum KA, Martin P, Goy A, Auer R, Kahl BS, Jurczak W, Advani RH, Romaguera JE, Williams ME, Barrientos JC, Chmielowska E, Radford J, Stilgenbauer S, Dreyling M, Jedrzejczak WW, Johnson P, Spurgeon SE, Zhang L, Baher L, Cheng M, Lee D, Beaupre DM, Rule S, Long-term follow-up of MCL patients treated with single-agent ibrutinib: updated safety and efficacy results., 2015; Blood. 126(6) 739-45. PMID: 26059948 | PMCID: PMC4528064
Wages NA, Conaway MR, Slingluff CL, Williams ME, Portell CA, Hwu P, Petroni GR, Recent developments in the implementation of novel designs for early-phase combination studies., 2015; Annals of oncology: official journal of the European Society for Medical Oncology / ESMO. 26(5) 1036-7. PMID: 25697216
Fogli LK, Williams ME, Connors JM, Reid Y, Brown K, O'Connor OA, Development and characterization of a Mantle Cell Lymphoma Cell Bank in the American Type Culture Collection., 2014; Leukemia & lymphoma. 56(7) 2114-22. PMID: 25315077
Fowler N, Kahl BS, Lee P, Matous JV, Cashen AF, Jacobs SA, Letzer J, Amin B, Williams ME, Smith S, Saleh A, Rosen P, Shi H, Parasuraman S, Cheson BD, Bortezomib, Bendamustine, and Rituximab in Patients With Relapsed or Refractory Follicular Lymphoma: The Phase II VERTICAL Study., 2011; J Clin Oncol. 0(0) null. PMID:
Mohr MR, Erdag G, Shada AL, Williams ME, Slingluff CL, Patterson JW, Two patients with Hailey-Hailey disease, multiple primary melanomas, and other cancers., 2011; Archives of dermatology. 147(2) 211-5. PMID: 21339448
Williams ME, Dreyling MH, Kahl BS, Leonard JP, O'Connor OA, Press OW, Wilson WH, Mantle cell lymphoma: report of the 2009 Mantle Cell Lymphoma Consortium Workshop., 2010; Leuk Lymphoma. 51(3) 390-8. PMID:
Williams ME, Dreyling M, Winter J, Muneer S, Leonard JP, Management of mantle cell lymphoma: key challenges and next steps., 2010; Clin Lymphoma Myeloma Leuk. 10(5) 336-46. PMID:
Williams ME, Connors JM, Dreyling MH, Gascoyne RD, Kahl BS, Leonard JP, Press OW, Wilson WH, Mantle cell lymphoma: report of the 2010 Mantle Cell Lymphoma Consortium Workshop., 2010; Leukemia & lymphoma. 52(1) 24-33. PMID: 21133727
Kahl BS, Bartlett NL, Leonard JP, Chen L, Ganjoo K, Williams ME, Czuczman MS, Robinson KS, Joyce R, van RH, Cheson BD, Bendamustine is an effective therapy in patients with rituximab-refractory, indolent B-cell non-Hodgkin lymphoma: results from a Multicenter Study., 2010; Cancer. 116(1) 106-14. PMID: | PMCID: PMC2916680
Leonard JP, Williams ME, Goy A, Grant S, Pfreundschuh M, Rosen ST, Sweetenham JW, Mantle cell lymphoma: biological insights and treatment advances., 2009; Clin Lymphoma Myeloma. 9(4) 267-77. PMID:
Prichard M, Harris T, Williams ME, Densmore JJ, Treatment strategies for relapsed and refractory aggressive non-Hodgkin's lymphoma., 2009; Expert Opin Pharmacother. 10(6) 983-95. PMID:
Robinson KS, Williams ME, van RH, Cohen P, Herst JA, Tulpule A, Schwartzberg LS, Lemieux B, Cheson BD, Phase II multicenter study of bendamustine plus rituximab in patients with relapsed indolent B-cell and mantle cell non-Hodgkin's lymphoma., 2008; J Clin Oncol. 26(27) 4473-9.
Friedberg JW, Cohen P, Chen L, Robinson KS, Forero-Torres A, La AS, Fayad LE, Bessudo A, Camacho ES, Williams ME, van RH, Oliver JW, Cheson BD, Bendamustine in patients with rituximab-refractory indolent and transformed non-Hodgkin's lymphoma: results from a phase II multicenter, single-agent study., 2008; J Clin Oncol. 26(2) 204-10. PMID:
Li Y, Williams ME, Cousar JB, Pawluczkowycz AW, Lindorfer MA, Taylor RP, Rituximab-CD20 complexes are shaved from Z138 mantle cell lymphoma cells in intravenous and subcutaneous SCID mouse models., 2007; J Immunol. 179(6) 4263-71. PMID:
Beum PV, Kennedy AD, Williams ME, Lindorfer MA, Taylor RP, The shaving reaction: rituximab/CD20 complexes are removed from mantle cell lymphoma and chronic lymphocytic leukemia cells by THP-1 monocytes., 2006; J Immunol. 176(4) 2600-9. PMID:
Williams ME, Densmore JJ, Pawluczkowycz AW, Beum PV, Kennedy AD, Lindorfer MA, Hamil SH, Eggleton JC, Taylor RP, Thrice-weekly low-dose rituximab decreases CD20 loss via shaving and promotes enhanced targeting in chronic lymphocytic leukemia., 2006; J Immunol. 177(10) 7435-43. PMID:
Mercer KW, Gail B, Williams ME, Hematologic disorders in critically ill patients., 2006; Semin Respir Crit Care Med. 27(3) 286-96. PMID:
Williams ME, Connors JM, Dreyling MH, Gascoyne RD, Kahl BS, Leonard JP, Press OW, Wilson WH, Mantle cell lymphoma: report of the 2010 Mantle Cell Lymphoma Consortium Workshop., ; Leuk Lymphoma. 52(1) 24-33. PMID: