Research Training

T32 Training Grant: Kidney Disease & Inflammation
The Division of Nephrology Training Program in Kidney Disease & Inflammation is a combined adult and pediatric nephrology training grant that offers broad research opportunities to address individual interests. Candidates may pursue training along several pathways to achieve the goal of becoming an independent investigator. Depending upon individual trainee advancement, two to three years of postdoctoral training will be required.
T32 Leadership consists of Mark Okusa (PI), and Associate Directors, Julia Scialla, Didier Portilla and R. Ariel Gomez. Their responsibilities for the program are highlighted below.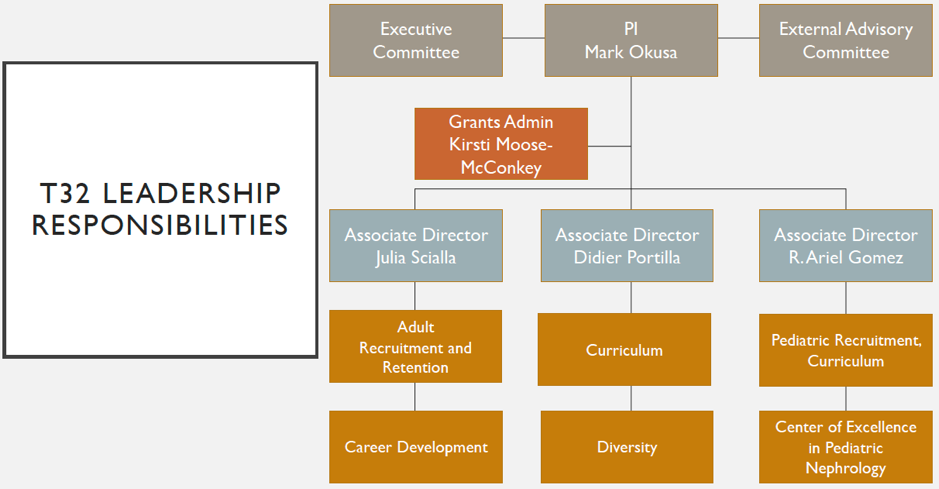 The two Training Pathways are:
Pathway I: Basic-Translational Research
Pathway II: Clinical Investigation

M.D. trainees may additionally pursue an advanced degree by applying to one of several graduate programs with which their mentors are associated:
Master of Science in Clinical Research in the Department of Public Health Sciences
Master of Public Health (MPH) in the Department of Public Health Sciences
Each program has its own degree requirements.
Learn more about Educational Activities.
Translational Training for PhD Postdoctoral Fellows
In addition to offering basic or clinical training to MD/DO fellows, we offer a special pathway for training PhD postdoctoral fellows. The purpose behind this program is to provide clinical relevance and experience for researchers who do not follow a traditional clinical pathway. In addition to numerous educational activities including clinical conferences, and a special summer lecture series (Nephrology Crash Course) we offer a 2 week "Boot Camp" where PhD postdoctoral fellows join clinicians in hospital rounds, outpatient clinic, and dialysis rounds.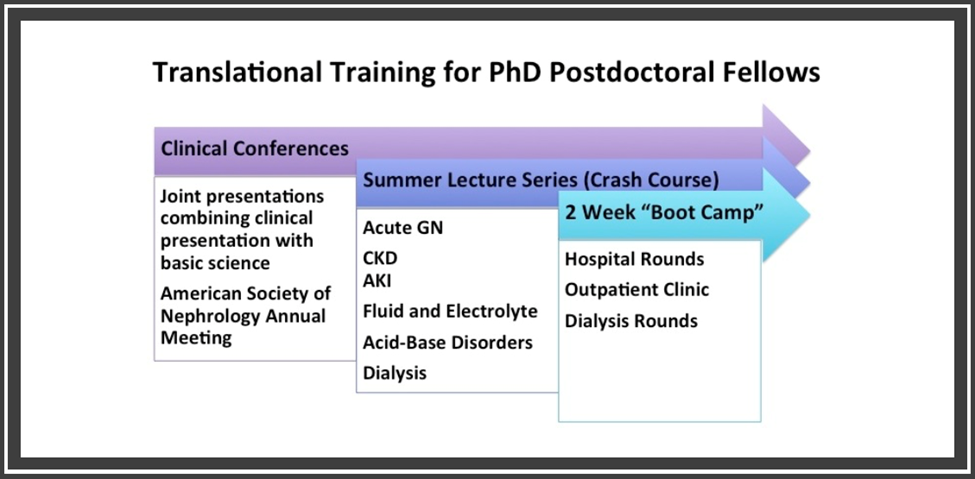 Research Proposal
Each trainee is assigned a primary NIH-funded preceptor from the program faculty to assist in identifying a research project, preparing a research proposal, identifying a secondary mentor as necessary, and selecting electives and didactic course work. The final written proposal is submitted to the Executive Committee for critical review. The critique is used to modify the proposal. In year two, the trainee provides a written progress report to the Executive Committee that includes the original aims, results, and any modification to the proposal.
The preceptor closely guides the trainee during his/her intensive research experience. The level of involvement by the preceptor will change during the course of the training period to allow the trainee to transition to an independent investigator.
Trainee Expectations
First-Year Trainees are expected to:
Exhaustively review the research literature to develop a strong background and rationale for the proposed study.
Design, perform, and troubleshoot the research plan. Establish needed methodologies, data sources and analytic plans with advice from the preceptor.
Obtain regulatory approval for research activities.
Begin implementation of the research plan with oversight.
Submit trainee grants (ASN Ben Lipps Grant of NIH F32). ASN has a number of grant opportunities listed here.
Second to Third Year Trainees will:
Draft and revise manuscripts for journal submission.
Assume increased scientific responsibility for the direction of the project
Draft and submit NIH K award or equivalent career development award.
During all years the trainee will be expected to submit and present abstracts to national meetings including the American Society of Nephrology Kidney Week, or other specialty conferences within their field (e.g. FASEB, Gordon Conferences and Keystone Meetings).
Research Process
Independent thinking is fostered. As the training process grows, trainers and trainees discuss potential projects, which could serve as the basis for the initiation of the trainee's independent scientific career.
Grant writing techniques are reviewed and trainees in their second or third years are encouraged to submit small grants to local foundations (e.g., National Kidney Foundation of the Virginias) for practical grant writing experience. All grants are reviewed and critiqued by training faculty with appropriate expertise.
The ultimate goal of the entire process is to prepare the trainee for the successful pursuit of an academic career that combines kidney-related research and teaching in a clinical or basic science department.
By the end of the training period, the trainee will be prepared to:
Assume responsibilities as independent faculty
Set up his/her own research laboratory
Train and supervise research associates and technicians
Successfully compete for extramural funding
Research Environment
The research environment draws from the major strengths of UVa scientists from many basic and clinical departments.
Significant NIH Funding
The University of Virginia School of Medicine ranks nationally in aggregate NIH funding with $146.3 M in fiscal year 2019. This is the largest amount in school's history and an increase by 25.4 million from fiscal year 2018.
Distinguished Faculty
Many of the primary departments of our faculty preceptors are highly ranked in NIH funding. Outstanding investigators are continually recruited to and emanate from the University, including three Nobel Laureates: Dr. Barry Marshall (Medicine, 2005) for the discovery of the bacterium Helicobacter pylori and its role in gastritis and peptic ulcer disease, Dr. Al Gillman (Physiology, 1994) for his work on G proteins, and Dr. Ferid Murad (Medicine, 1998) for one of the most significant discoveries about the cardiovascular system of the last several decades.
Expansive Laboratory Facilities
To support research operations, the School of Medicine has modern state of the art facilities including a 150,000 sq ft research building (MR5) to house laboratories in biomedical engineering, cardiovascular sciences, and other key areas. The Carter-Harrison building (MR6), a 102,000 sq ft research building, brings together experts in immunology and related diseases. Pinn Hall has recently been and has modern state-of-the-art open laboratories.
All laboratories are well equipped with state-of-the-art instrumentation to conduct experiments ranging from human studies to molecular and cell biology approaches.
Research facilities are designed to encourage communication and scientific interaction. Conference rooms/libraries are adjacent to laboratories and provide space for informal interactions. University and Medical Center networks and the Internet allow investigators to connect directly to institutional libraries for literature searches and to access shared software. Most on-line journals are available through UVA licenses.
A "seamless" research environment exists, without barriers to scientific inquiry, and collaborations are maintained between the medical and academic campuses.
Nephrology Clinical Research Center
The Nephrology Clinical Research Center (NCRC) is a 2,300 sq ft clinical research facility located adjacent to the Division of Nephrology operations. Clinical trials and other human subjects research in the Division are conducted here.
The NCRC facilities and staff are available to trainees to conduct their clinical research projects. In addition, a variety of clinical trials, cohorts, registries and data projects in kidney disease are active at the Center allowing trainees to engage with and learn from the broader portfolio of work during their training.
Integrated Translational Health Research Institute of Virginia (iTHRIV)
iTHRIV is the home of UVa's Clinical and Translational Science Award and a hub of translational research at UVa and its partners at Inova and Carillion Clinic. iTHRIV provides educational programming, a data commons, research concierge services to promote collaborative research, among many other resources for clinical and translational investigators at UVa.
The UVa School of Data Science
In 2019 the UVa opened the pioneering School of Data Science, one of the first of its kind in the country. Mentors, projects, and formal training in data science are available through partnerships with the school and its Masters of Science in Data Science program.