Education
Fellowship Training Program
Overview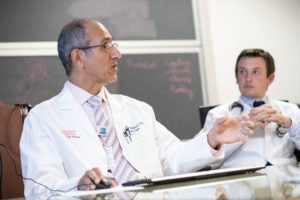 Welcome! The University of Virginia Division of Nephrology has comprehensive programs in patient care, research, and education related to nephrology. The mission of the University of Virginia (UVA) School of Medicine Nephrology fellowship program is to produce physicians who are leaders in the field of nephrology, whether this is in clinical or basic science endeavors.  We also aim to produce physicians who possess habits of lifelong learning in order to build upon their knowledge, skills and professionalism.  Our faculty are recognized nationally and internationally in research, education, and clinical care, and are committed to providing excellence in each of our missions. Our program selects four to five fellows each year from a competitive pool of applicants.
Clinical Activities
Inpatient nephrology consultation service
Inpatient ICU nephrology consultation service
Inpatient transplantation service
Outpatient longitudinal care
Outpatient transplantation care
Outpatient hemodialysis, home hemodialysis, and peritoneal dialysis
Renal replacement therapies (IHD, CAPD and variations, CRRT)
Therapeutic apheresis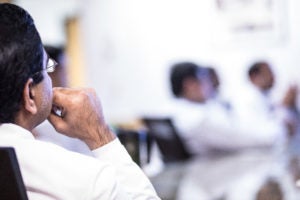 The University of Virginia Health System serves as a referral center for a large geographical region.  This provides our trainees the opportunity of managing both rare and complicated and also simple and common diseases under the direct supervision of our full time faculty.  Our clinical fellows provide consultative care to patients in 8 different intensive care units (2 medical, 1 surgical, 1 trauma and burn, 2 cardiothoracic, 1 coronary care and one neurology and neurosurgery ICU during ICU rotation.  Fellow trainees will master all modalities of extracorporeal therapies such as intermittent and continuous hemodialysis, peritoneal dialysis and therapeutic apheresis.  Fellows provide longitudinal care to individuals with different nephrologic issues in their continuity clinics as well as following up chronic hemodialysis patients in our in-campus hemodialysis facility and attending the home dialysis clinic to care for individuals on chronic home hemodialysis or peritoneal dialysis.