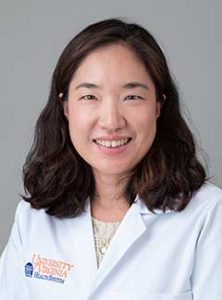 We are pleased to announce the launching of an excellent new clinical resource for women with Polycystic Ovary Syndrome (PCOS).
Dr. Su Hee Kim, Assistant Professor in Internal Medicine with fellowship training in Endocrinology, has started a new PCOS clinic at the Midlife Health Center.  This clinic, newly launched for 2020, provides care for women with metabolic issues, hirsutism related to PCOS, and especially women with PCOS requiring medical help with weight loss.
Please contact the Midlife Health Center at (434) 243-4720 or (800)-251-3627 for further information.