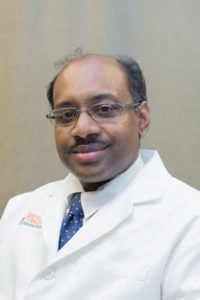 Age-related macular degeneration (AMD) affects more than 10 million Americans and is one of the leading causes of blindness worldwide. As the nation's population ages, the disease is expected to reach epidemic levels. However, there currently is no treatment for the most common form of the disease—the "dry" or "non-neovascular" form, which affects nearly 90 percent of patients who have the disease.
Vitreoretinal surgeon Jayakrishna Ambati, MD—who joined the UVA School of Medicine this summer as the DuPont Guerry III Professor of Ophthalmology and director of the new Center for Advanced Vision Science—is leading UVA's efforts to develop therapies that will stop progression of the disease and restore these patients to a normal life.
"Macular degeneration is really a silent epidemic," says Ambati, who also serves as vice chair for ophthalmology research at the School of Medicine. "Almost everyone knows somebody with this disease, and yet there's not a great deal of visibility for it. It's not in the public eye."
MOLECULAR MECHANISMS
AMD is caused by the deterioration of the macula, the center portion of the retina—the light-sensitive tissue lining the back of the eye that sends the images we see to the brain via the optical nerve. In working to uncover the molecular mechanisms that cause the retina to deteriorate, Ambati collaborates with scientists from many disciplines, including developmental science, genomics, stem cells, regenerative medicine, and drug development and discovery.
His research team has discovered some promising therapies and is working with a biotech company to initiate a phase 1 clinical trial within the next year.
Ambati, who comes to UVA from the University of Kentucky, was hired as part of UVA School of Medicine Dean David Wilkes' Strategic Hiring Initiative—an effort backed by significant institutional support to recruit 32 new faculty with an emphasis on physician-scientists.
FUNDING THE PURSUIT
Like many scientists, Ambati says one of the biggest challenges is obtaining adequate funding for research. The NIH spends a mere $2 per person annually for research related to eye diseases, he says. He strives to increase the public's understanding of the importance of funding for basic scientific research that can translate to treatments and cures for a host of chronic diseases.
"It's important to keep in mind that virtually all of the therapies that have come into the market over the last 20 years have had the underpinning of decades of fundamental, basic scientific research," Ambati says. "We all have to reflect and advocate with our government representatives to help them understand the importance of funding scientific research at the level that can make a difference for everyone."
http://pulse.uvahealth.com/stories/spotlight-jayakrishna-ambati 
Tags: Ambati, AMD, macular degeneration, MD, Research, Retina