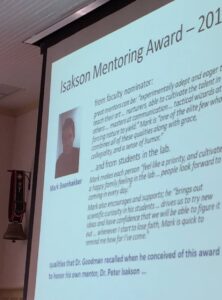 Congratulations to Mark Beenhakker, who received the 2015 Peter C. Isakson Mentoring Award at the Pharmacology Department retreat earlier this week!
The Peter C. Isakson Mentoring Award recognizes junior faculty who provide excellent mentoring to their graduate students. This award enhances the training and experience for students by financing opportunities that might be difficult for a junior faculty member to provide. Some examples include attending conferences and participating in internships or short courses. This award is funded by the generous gifts of Dr. David Goodman, whom we were delighted to have with us at the retreat this year. Dr. Goodman, an alumnus of our program, received his Ph.D. in 1993 and this award honors his Ph.D. Advisor, Peter Isakson. Dr. Isakson was a junior faculty member in the Department at the time he mentored David. Peter went on to have a stellar career at Searle, Pharmacia and Abbott, and David is the CEO of PharmaScience, which is today the 2nd largest privately-owned pharmaceutical company in Canada.
The Beenhakker lab was consistently described by Mark's student nominators as feeling more like a family than a job. Multiple trainees commented on the positive lab environment and the ways Mark makes each person feel like a priority. A sentiment expressed throughout his nominations was, "I look forward to coming to work every day." Mark's demeanor plays a large role in creating a cheerful and positive lab environment. He was described by his students as "selfless," "optimistic," "resilient," and "passionate, but not overbearing." They also said that Mark "makes strong personal connections," he "treats every colleague with equal respect," and he "give[s] his undivided attention regardless of topic." One trainee noted that Mark's "enthusiasm and commitment to his job is contagious" and several nominators commented on Mark's accessibility and willingness to help them – and others throughout the department and School of Medicine. His students observed, "I have rarely heard Mark express any discontent" and "rarely do you see Mark without a smile."
Being an excellent mentor is more than being a nice guy; although that certainly helps!  An important quality of mentoring is fostering passion and work ethic in your trainees in order to promote their growth and development as scientists. Mark distinguishes himself as a mentor who "bring[s] out scientific [curiosity] in his students." One graduate student remarked, "I didn't think the lab life was the right fit for me" and "I could not imagine my life as a graduate student" but "Mark dispelled my doubts." Another said, "I would frequently get frustrated….Mark tirelessly helped me through every challenge…providing crucial insight to help me progress" and "driving me to keep trying new ideas and having confidence that we would be able to figure it out….Whenever I start to lose faith, Mark is quick to remind me how far I've come." An undergraduate training in Mark's lab said, "I came to college unsure of my path. With Mark's guidance I have started to see the true beauty of scientific inquiry and exploration." His trainees consistently mentioned the way Mark encourages them and supports effective communication of their data and results. One grad student's assessment gets at the heart of training under Mark's supervision: "I have grown greatly as a scientist." This is what excellent mentors do – they inspire, encourage, and develop the next generation of scientists. His students summarized their training with Mark as, "I owe a great deal to the time he has spent dedicated to fostering these aspects [of scientific development],"  "My past 3.5 years with Mark are irreplaceable," "I feel extremely privileged to have him as my mentor," "I am very lucky to be mentored by someone who cares deeply about my scientific development and personal well-being," "My goal is always to emulate Mark," and, finally, "Mark truly exemplifies exceptional mentoring and I can only hope [to] be as capable when I reach the same point in my own scientific career."
There's no question that Mark is providing excellent mentoring to the students in his lab. The letters we received from faculty and students alike were sincere and moving. Mark Beenhakker inspires and brings out the best in others. Please be sure to congratulate him on his receipt of this well deserved award.