The 2016 Joseph Larner Memorial Lecture in Pharmacology will be presented by Alan D. Cherrington, PhD (Vanderbilt) this Thursday, October 6, 2016 at 9:30 AM in the Pinn (formerly Jordan) Hall Conference Center Auditorium. He will be speaking on "Control of Hepatic Glucose Uptake and Storage in the Postprandial State."
The lecture is free and open to all – please also plan to join us for a Welcome Reception with Dr. Cherrington at 8:30 AM in Pinn 2ABC.
Dr. Cherrington is the Jacquelyn A. Turner and Dr. Dorothy J. Turner Chair in Diabetes Research and Professor of Molecular Physiology and Biophysics at Vanderbilt University School of Medicine. Learn more about his research in diabetes, glycogenolysis, gluconeogenesis, physiology by visiting his online profile.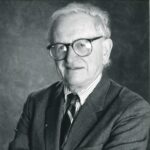 Dr. Joseph Larner (January 9, 1921 – January 28, 2014) served as Chairman of the Pharmacology Department from 1969-1990. He led a distinguished career, garnering numerous scientific awards including the Banting Medal for Scientific Achievement in Diabetes Research, the Virginia Lifetime Achievement Award in Science, and he was elected to the Institute of Medicine of the National Academy of Sciences. Dr. Larner's notable research was focused on the study of insulin activity with the goal of improving diabetes treatments and, in 1974, he founded the UVa Diabetes Center for Research. The Larner family—wife Frances and sons Andrew, James, and Paul—endowed the Joseph Larner Annual Memorial Lecture in Pharmacology to explore the pervasive role of metabolism/cell signaling in human disease. Gifts from the family, as well as Dr. Larner's UVa colleagues and other scientists who respected his work, provide support for this annual lecture and continue Dr. Larner's legacy at the School of Medicine.