We're excited to introduce a new Member Spotlight Series, where we'll highlight members of the department so you can get to know them better. We're (mostly) scrapping the CVs and science and getting down to the things you really care about. Last month, the Pharmacology Department welcomed a new Assistant Professor, Irina Bochkis. She "volunteered" to be our debut spotlight. So, without further ado, we present: Irina Bochkis (whose web page is currently under construction…she's that new)!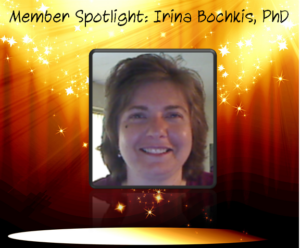 Quickly, what does your research focus on?
My lab employs both experimental and computational methods to understand regulation of metabolism. We investigate genetic and epigenetic mechanisms underlying metabolic disease.
Do you have any open positions in your lab?
I'm looking for a lab technician and a postdoc with computational skills for analysis of next-generation sequencing data.
Are you accepting grad students for rotations?
Yes, I am interested in getting students
Hobbies?
College Basketball (big UNC fan, happy to be back in ACC country), SciFi (Star Trek, X-files)
Interests?
Zumba, Yoga
Pets?
Still miss my parents'/family dog.
Dark or Milk Chocolate?
Dark, most definintely!
Crunchy or Soft Tacos?
No preference…actually, fajitas over tacos.
Cake or Pie?
Depends on if chocolate is involved…
Walk, Bike, or Run?
Bike
What kind of music do you like?
I listen to Russian Pop a lot.
Are you a bigger prankster than Bimal and/or Mark?
Not sure, probably not.
Favorite thing to do in C'ville?
Still settling in — walking around the lake in my neighborhood.
Something fun and personable you wish I asked but didn't?
This stumps people: I can say that my mom is Asian, and I am half-Asian. That is actually a technicality. She was born in Siberia, so in Asia. But obviously she's European 🙂