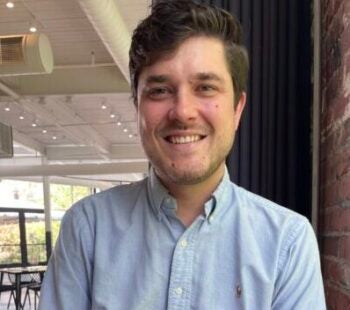 Congratulations to Philip Seegren for being the recipient of the 2021 Ted W. Rall Award for the best paper by a Pharmacology Student published in the calendar year. He received this award for his first-authored manuscript, "Mitochondrial Ca2+ signaling is an electrometabolic switch to fuel phagosome killing", published in Cell Reports. Philip is a trainee in Bimal Desai's Lab and describes the published work and findings of he and his colleges below:
Defense against microbial infections requires substantial allocation of metabolic resources. Over the last decade, it has become abundantly clear that immune cells radically reprogram their metabolism to meet the bioenergetic demands of microbial killing. However, in the backdrop of this high-activity area lay the enduring and perplexing mystery in immunometabolic reprogramming: HOW do the immune cells change cellular metabolism so rapidly? In this manuscript, we reported the novel and arresting finding that in response to a fungal pathogen, Candida albicans, macrophages use a fast two-phase Ca2+-relay to rapidly switch the mitochondrial metabolism into an overdrive.  Upon detection and engulfment of the pathogen, macrophages rapidly elevate cytosolic Ca2+ and concurrently activate the Mitochondrial Ca2+ Uniporter (MCU) to obtain a rapid influx of Ca2+ into the electrically charged mitochondria. This study identifies the MCU as a critical component of cell-intrinsic antimicrobial responses
The award will be presented at our upcoming Annual Pharmacology Scientific Research Retreat on Thursday, October 14, 2021. Way to Go, Philip, for this well-deserved award! Thank you for your outstanding work and contributions to research. The Pharmacology department is very proud of you!