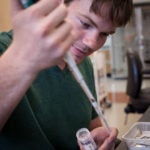 Alex Kreutzberger
Research Associate
Email: ajk5jw@Virginia.EDU

Alex Kreutzberger has moved on to Harvard University in 2020 to work with the Kirchhausen Lab.
Alex, a Charlotte, NC native, earned his PhD at the University of Virginia while working in the Tamm Lab. After earning his PhD, Alex worked as a postdoctoral fellow at Johns Hopkins Medical Institute in the laboratory of Sin Urban in the Department of Molecular Biology and Genetics studying rhomboid proteases. Alex returned to the Tamm Lab in 2018 as a Research Associate.
Education:
PhD, Molecular Physiology and Biological Physics, University of Virginia, School of Medicine, May 2017
Bachelor of Science, Chemistry with Concentration in Biochemistry, May 2011
University of North Carolina, Wilmington
Publications:
Kreutzberger AJB, Kiessling V, Stroupe C, Liang B, Preobraschenski J, Ganzella M, Kreutzberger MAB, Nakamoto R, Jahn R, Castle JD, Tamm LK. In vitro fusion of single synaptic and dense core vesicles reproduces key physiological properties. Nat Commun. 2019 Aug 29;10(1):3904. doi: 10.1038/s41467-019-11873-8. (https://www.ncbi.nlm.nih.gov/pubmed/31467284)
Kreutzberger AJB, Kiessling V, Liang B, Yang ST, Castle JD, Tamm LK. Asymmetric Phosphatidylethanolamine Distribution Controls Fusion Pore Lifetime and Probability. Biophys J. 2017 Oct 13. pii: S0006-3495(17)31026-3. doi: 10.1016/j.bpj.2017.09.014. (https://www.ncbi.nlm.nih.gov/pubmed/29037600)
Kreutzberger AJB, Kiessling V, Liang B, Seelheim P, Jakhanwal S, Jahn R, Castle JD, Tamm LK. Reconstitution of calcium-mediated exocytosis of dense-core vesicles. Science Advances 19 Jul 2017: Vol. 3. No. 7. E1603208 DOI:10.1126/sciadv.1603208 (http://advances.sciencemag.org/content/3/7/e1603208.full)
Yang ST, Kreutzberger AJB, Kiessling V, Ganser-Pornillos BK, White JM, Tamm LK. (2017) HIV virions sense plasma membrane heterogeneity for cell entry. Sci. Adv. Jun 2017: Vol. 3, no. 6, e1700338(http://advances.sciencemag.org/content/3/6/e1700338)
Zdanowicz R, Kreutzberger A, Liang B, Kiessling V, Tamm LK, Cafiso DS. Complexin Binding to Membranes and Acceptor t-SNAREs Explains Its Clamping Effect on Fusion. Biophys J. 2017 Apr 26. pii: S0006-3495(17)30389-2. doi: 10.1016/j.bpj.2017.04.002. [Epub ahead of print]
Kiessling V, Liang B, Kreutzberger AJ, Tamm LK. Planar Supported Membranes with Mobile SNARE Proteins and Quantitative Fluorescence Microscopy Assays to Study Synaptic Vesicle Fusion. Front Mol Neurosci. 2017 Mar 16;10:72. doi: 10.3389/fnmol.2017.00072. eCollection 2017. (https://www.ncbi.nlm.nih.gov/pubmed/28360838)
Yang ST, Kreutzberger AJ, Lee J, Kiessling V, Tamm LK.  The role of cholesterol in membrane fusion. Chem Phys Lipids. 2016 May 11. pii: S0009-3084(16)30055-X. doi: 10.1016/j.chemphyslip.2016.05.003. [Epub ahead of print] (http://www.ncbi.nlm.nih.gov/pubmed/27179407)
Kreutzberger AJ, Liang B, Kiessling V, Tamm LK. Assembly and Comparison of Plasma Membrane SNARE Acceptor Complexes. Biophys J. 2016 May 24;110(10):2147-50. doi: 10.1016/j.bpj.2016.04.011. Epub 2016 May 10. (http://www.ncbi.nlm.nih.gov/pubmed/27178662)
Kreutzberger AJ, Kiessling V, Tamm LK.  High Cholesterol Obviates a Prolonged Hemifusion Intermediate in Fast SNARE-Mediated Membrane Fusion. Biophys J. 2015 Jul 21;109(2):319-29. doi: 10.1016/j.bpj.2015.06.022. (http://www.ncbi.nlm.nih.gov/pubmed/26200867)
Hernandez JM, Kreutzberger AJ, Kiessling V, Tamm LK, Jahn R.  Variable cooperativity in SNARE-mediated membrane fusion. Proc Natl Acad Sci U S A. 2014 Aug 19;111(33):12037-42. doi: 10.1073/pnas.1407435111. Epub 2014 Aug 4.(http://www.ncbi.nlm.nih.gov/pubmed/25092301)
Kreutzberger, A.J. and Pokorny, A. On the origin of multiphasic kinetics in peptide binding to phospholipid vesicles. J Phys Chem B. 2012 Jan 26;116(3):951-7. doi: 10.1021/jp209080m. Epub 2012 Jan 13. (http://www.ncbi.nlm.nih.gov/pubmed/22242648)