Today we are pleased to introduce a UVA physician from our division of Hematology and Oncology,
Christiana Brenin, MD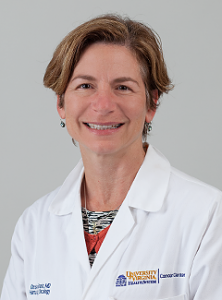 Christiana was born in Athens, Greece and moved to Montreal, Canada at the age of four. She received her bachelor's degree at McGill University and subsequently moved to the United States to attend medical school at New York Medical College. To continue her training, Dr. Brenin attended residency and fellowship in Chicago at Northwestern Memorial Hospital.
Dr. Brenin established a practice in White Plains, NY where she worked for four years before her and her husband, a surgical oncologist, moved to Charlottesville, Virginia to join the University of Virginia.
As a celebrated Hematologist/ Oncologist at the University of Virginia Medical center, Dr. Brenin specializes in taking care of post-surgical breast cancer patients and those with colorectal cancer. She cares very deeply about her patients and is focused on helping them maintain a strong quality of life throughout treatment.
Dr. Brenin is currently the medical director of the infusion center as well as the Hematology/Oncology Fellowship Program Director. In her free time, she loves to go running, hiking, and skiing. She enjoys cooking and traveling with her husband and two daughters.