Today, we are happy to introduce the first western-trained Native American physician. While there is a long and important history of Native American physicians and healers before Dr. La Flesche Picotte, she battled incredible odds to gain an education, and then returned home in order to help her community maintain their culture, health, and heritage.
Susan La Flesche Picotte, MD
Susan was born in 1865 on a Nebraskan Omaha reservation. Both of her parents were biracial, had experience outside of the reservation, and encouraged their children to break away from native rituals seeing them as detrimental in the 'white world'.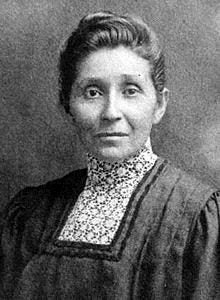 Susan attended the schools that most children on the reservation attended- mission boarding schools taught by Presbyterian or Quaker individuals meant to assimilate Native American children into white society. After missions school, Susan moved to New Jersey to attend Elizabeth Institute for two years, and moved back to the reservation to teach before heading to Virginia for more education at a vocational school. Here, Susan and her sister learned 'housewifery' skills meant to 'civilize' Native Americans. While graduates of these vocational schools were encouraged to return to their reservations to become Christian wives and mothers, Susan decided that she wanted to go to medical school.
While women were 'healers' in Omaha society, it was incredibly uncommon for a woman to formally learn western medicine. She was accepted to the Women's Medical College of Pennsylvania, however, medical school was expensive and Susan couldn't afford it on her own. A family friend suggested that she reach out to the Connecticut Indian Association, a program that aimed to 'civilize' Indians through the promotion of Victorian domestic practices. By stating that she would like to return to the reservation to help her people with their hygiene and as a physician she was accepted as this was in line with their values.
Graduating from medical school as valedictorian in 1889, Dr. LaFlesche was noted as the first Native American physician. She returned to the Omaha reservation to take the position of the government physician intended to teach children the importance of proper hygiene and health. After marrying Henry Picotte, a Sioux Indian, she continued to practice medicine even when most women were expected to halt work in order to take care of their family.
Continuing her legacy, Dr. Picotte sought to educate her community about preventative medicine and public health issues. She gained the trust of her community and became a leader. With experience in protecting land owed to her family, she began to help other Omaha who wanted to sell their land and gain control of money owed to them by the government.
Dr. Picotte grew increasing ill as she aged and was no longer able to run the clinic she established. She passed away in 1915 due to what we now think was possible bone cancer.