As we have seen with other female physician pioneers, Marie Equi pushed the limits of what people saw as "acceptable" behavior, but none of this deterred today's spotlighted physician and member of the LGBTQ+ community from serving all, especially the poor and the oppressed.
Marie Equi, MD
Marie was born and raised in the strong textile town of New Bedford, Massachusetts. She dropped out of high school after one year to begin working in a textile mill to support herself. Growing frustrated with this seemingly dire future, she and her friend Bessie Holcomb escaped to Oregon.
After living a quiet life along the Columbia River, Marie and Bessie decided to move to San Francisco, where Equi began to study medicine at the Physicians & Surgeons Medical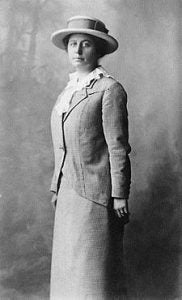 College and then the University Of California Medical Department. Marie completed her coursework and relocated, without Bessie, to Portland, Oregon where she completed her medical degree at the University of Oregon in 1903.
Dr. Equi became one of the first 60 women to become a physician in Oregon. In 1906, she established a practice in Portland that focused on the health concerns of women and children.  During her general practice, Equi began to provide abortions and did so without care for social status or class. In fact, she would often charge wealthier women more in order to pay for the costs of those who were poorer. She never faced legal consequences for her services and later became an activist in Portland's Birth Control League.
During the Progressive Era, Oregon became a leader in social and political reforms, soon adopted by the rest of the nation. Thanks you Marie's status as a physician, she was able to be at the forefront of radical change such as women's right and suffrage, unemployment and women's right to free speech. Her opposition to World War I landed her imprisonment in San Quentin State Prison after a fight broke out during a pre-war march in downtown Portland. Equi was released after serving ten months.
Living a quiet life post war, Equi was praised for her courage and compassion during earlier years. She fractured her hip in 1950, eventually passing in 1952 at the age of 80. Her obituaries ran in newspapers across the country and she was later described by a good friend as
…a woman of passion and conviction (and) a real friend of the have-nots of the world.