Today, we have the pleasure of introducing one of UVA's own physicians, and Program Director of our Basic Cardiology Fellowship Program,
Pamela K. Mason, MD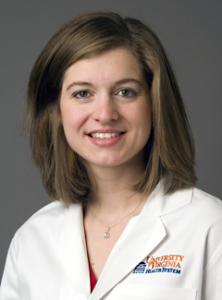 Dr. Pam Mason is a cardiac electrophysiologist at the University of Virginia Medical Center. Specializing in heart rhythm abnormalities, she focuses her research on complex device therapy (such a pacemakers or defibulators).
Her main source of motivation is on getting her patients back to the quality of life that they are used to.
Understanding that heart rhythm abnormalities are uncomfortable and life altering, Dr. Mason strives to provide the best care in order to see her patients return to the activities they love.
Having grown up in Lima, Ohio, Dr. Mason attended the University of Cincinnati to obtain her medical degree. She completed her residency and fellowship at the University of Virginia and has been practicing medicine here for over 15 years. Relishing in the participation and enthusiasm of her colleagues, she really enjoys the opportunity to teach and practice medicine.
Currently, Dr. Mason and her husband Rohit Malhotra (also an electrophysiologist at UVA) live in Charlottesville with their two sons.