Today, in a continuation of our Women's History Month Spotlight, we are highlighting a female physician who is out of this world:
Astronaut, Mae Jemison MD
Mae C. Jemison has always had a strong interest in science, especially astronomy. Having grown up in Chicago, her parents had always been supportive and they encouraged her to attend Stanford University to pursue her Bachelor's Degree in chemical engineering. During her time at Stanford, she involved herself in various extracurricular activities, also serving as head of the Black Student Union.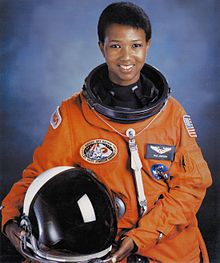 After earning her undergraduate degree, Mae begin medical school at Cornell University Medical College. She took advantage of a plethora of opportunities such as studying in Kenya and Cuba and working at a Cambodian refugee camp in Thailand.
Building on her experience, Dr. Jemison worked as a general practitioner and Peace Corps medical officer for Sierra Leone and Liberia. Four years after graduation from medical school, Dr. Jemison made the decision to follow her childhood passion of becoming an astronaut. She applied for admission into NASA's training program in 1985.
Once accepted in 1987, Mae became the first African-American women to be admitted into the training program. In 1992, on board the Endeavor, she became the first African-American female in space as a science mission specialist- a job that set her responsible for conducting crew-related scientific experiments on the space shuttle. She spent eight days in space conducting experiments on weightlessness and motion sickness on the crew and herself.
Leaving the astronaut corps in 1993, Dr. Mae Jamison now teaches at Dartmouth and is a member of several well establishes medical and scientific organizations. She has founded the Jemison Group, which is a company that prides itself on research, as well as developing and marketing advanced technologies.