Breaking into certain professions has frequently been a problem for women, but an enduring legacy of this is the difficulty to break the proverbial "glass ceiling", today's spotlight is a woman who has managed to break one such glass ceiling for women in medicine — by becoming the first female president of the American Medical Association.
Nancy Dickey, MD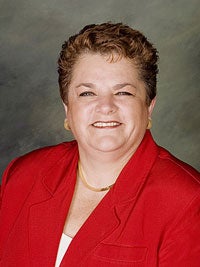 Board Certified in Family Medicine, Dr. Dickey earned her medical degree from the University of Texas Health Sciences Center at Houston. She completed her residency there as well and went on to be the founding director of the Family Practice Residency of the Brazos Valley (where Texas A&M is located).
She has focused her practice on health policy, health care delivery solutions, medical ethics and professionalism and with her experience, has developed the American Medical Association's Patient Bill of Rights.
In 1997, Dr. Dickey became the first female president of the AMA, serving until 1998. She now often speaks before congress on issues that involve medical care in the United States.
After holding multiple distinguished positions at Texas A&M University, she was inducted into the Texas Women's Hall of Fame in 2010. Nancy Dickey is currently married with three children and serves as president of the Texas A&M University Health Science Center and vice chancellor for health affairs.