Today we are pleased to introduce a long-time Wahoo,
Jennifer Kirby, MD
Dr. Kirby is an assistant professor of endocrinology at the University of Virginia specializing in diabetes and metabolism.  She is the co-director of the Cardiovascular Diabetes consult service at the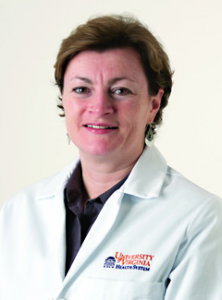 UVA Hospital and helps with quality improvement alongside the Department of Medicine.
During Jennifer's third year of undergraduate, she took a cancer biology course that really struck up her interest in the idea of pursuing medicine.  She had planned to graduate and obtain her PhD, but a classmate (who was also a nurse and working towards medical school) suggested she seek out a combined MD-PhD degree. During her first year of medical school at the University of Maryland, she fell in love with endocrinology.
She completed her MD-PhD at the University of Virginia (with an additional year as Chief Resident), and then staying on as a fellow.
In her free time she really enjoys spending time with her family, her husband Jeff and their two sons. She loves anything involving the outdoors including hockey and running along the country roads and mountain trails by her home.