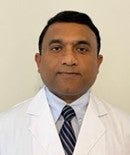 Golam Mohi, PhD, will assume the leadership of the newly formed Hematologic Malignancies Translational Research Team. This new TRT represents an expansion of the current Hematopoiesis/Hematologic Malignancies Working Group. In his new role, Dr. Mohi will work together with other basic and clinical investigators at UVA to enhance blood cancer research, foster collaborations, and to advance the translation of research discoveries to clinical trials and clinical development.
Dr. Mohi is a Professor of Biochemistry and Molecular Genetics at the School of Medicine. His research is devoted to understanding the molecular mechanisms of leukemias, including myeloproliferative neoplasms, myelodysplastic syndromes, chronic myelomonocytic leukemia, and acute myeloid leukemia. His goal is to identify new therapeutic targets and therapies for leukemias. He also has a research interest in breast cancer. Dr. Mohi has been successful in translating his research findings to the clinic. His laboratory research findings have led to the design of an ongoing multicenter clinical trial of the PIM kinase inhibitor TP-3654 in patients with myelofibrosis, and the UVA Cancer Center is one of the major sites for this clinical trial.
Prior to joining the UVA School of Medicine in 2017, Dr. Mohi was a Professor in the Department of Pharmacology at the State University of New York (SUNY) Upstate Medical University. He earned his PhD from the Institute of Medical Science at Tokyo University, Japan in 2001. He completed his postdoctoral training at Harvard Medical School before embarking on his independent faculty career at SUNY. Dr. Mohi has received the American Society of Hematology (ASH) Scholar award and the Leukemia & Lymphoma Society (LLS) Scholar Award.
Dr. Mohi has been highly successful in attracting extramural research grants, obtaining more than $8 million in research funding at UVA over the past 5 years. His research has been funded by prestigious organizations such as the National Institutes of Health, the Department of Defense, the Leukemia & Lymphoma Society of America, and other funding agencies. Additionally, he has successfully attracted sponsored research funding from various pharmaceutical industries.