In the News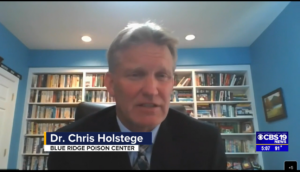 Schedule permitting, our experts are happy to speak to members of the news media. Contact UVA Health Media Relations.
Below are links to a few recent stories featuring staff from the Blue Ridge Poison Center.
June 15, 2023 WVTF Radio IQ
Experts warn venomous snakes are out and about
April 19, 2023 NBC channel 29
Blue Ridge Poison Center warns of over-the-counter, opioid-like drug.
February 23, 2023 Virginia Mercury
As fentanyl surges, Virginia lawmakers debate how far criminal penalties should go.