Cynthia H. Dent, MD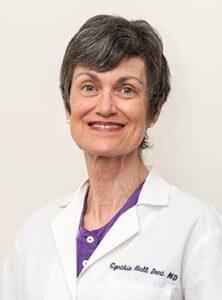 MD: University of North Carolina at Chapel Hill
Residency: University of Virginia
Biography

Cynthia H. Dent, MD, is a medical/surgical dermatologist practicing in Waynesboro. She provides treatment for all types of skin, hair, and nail diseases, including psoriasis, eczema, acne, and rashes. In addition, she is trained to remove skin cancers, moles, cysts, warts, and other growths.
Originally from North Carolina, Dent received her medical degree from the University of North Carolina at Chapel Hill and then completed her dermatology residency at the University of Virginia.
Dent is married to UVA cardiologist John Dent, MD, and they have two grown children. In her free time, she enjoys spending time with family, traveling, hiking, and yoga. Dent is also actively involved in volunteering in the community, working at the Haven Soup Kitchen in Charlottesville, and doing skin cancer screenings for the Augusta Health Annual Skin Cancer Screening.