Education
Residency Program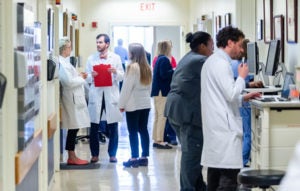 The Department of Dermatology has nine faculty members, one being a dermatopathologist with joint appointments in Dermatology and Pathology. The department is equipped with a phototherapy unit for both PUVA and UVB and a pulsed dye laser for the treatment of vascular lesions. Our objective is to provide a stimulating educational atmosphere. By the end of the three-year training period, residents should be able to acquire Board certification and competently practice Dermatology. We adhere to the residency program requirements set by the
American Board of Dermatology, Inc
.
Contacts
If you have an interest in our program, please contact us to discuss opportunities:
Residency Program Director
Barrett J. Zlotoff, M.D.
Associate Residency Program Director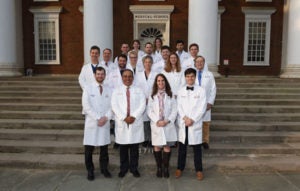 Maggie Noland, M.D.
Residency and Fellowship Program Coordinator
Brenda Harris
blh6n@virginia.edu
Our Commitment to Diversity
Diversity stands with ethics, integrity, and academic excellence, as a cornerstone of University culture. The University promotes an inclusive and welcoming environment that embraces the full spectrum of human attributes, perspectives, and disciplines. When people of different backgrounds come together, they exchange ideas, question assumptions (including their own), and broaden the horizons for us all. A University of Virginia community rich in diversity affords every member equal respect and provides a forum for understanding our differences as well as our commonalities. In addition to clinical excellence, here at UVA Dermatology we are dedicated to help find meaning, fulfillment and satisfaction in your career.  We learn from our patients and each other.
For more information on diversity at the University of Virginia, please visit the Vice President & Chief Officer For Diversity & Equity.