Conferences
Dermatology Grand Rounds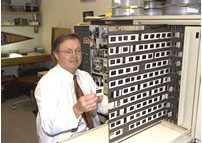 The Department of Dermatology Grand Rounds are held the first Thursday of every month and CME credit is offered. Patient viewing is held from 9:00 to 10:00 AM, followed by a discussion on the cases until 11:00 AM. Three hours CME credit may be awarded for participation.
Grand Rounds presents a focus case with learning objectives, and additional interesting cases are also presented. Physicians interested in bringing or sending a patient to Grand Rounds should notify our Dermatology Clinic (434-924-5115) for appropriate scheduling. Visitors should call the clinic before coming to Charlottesville to ensure there is no cancellation due to weather, holidays or the ABD annual in-service examination.
E.P. Cawley Lecture Series
The University of Virginia Department of Dermatology EP Cawley series is held twice a year.  This lecture series is named in honor of the late E.P. Cawley, M.D., former department chairman and professor Emeritus. The Cawley lectureship is the highest honor accorded by the department to our colleagues from other universities. Nationally-renowned dermatologists are invited by the residents to present three one-hour lectures available for CME credit.
Two Cawley lectures are held on Wednesday afternoon from 1:00 to 4:00; the third is presented at 8:00 AM prior to Grand Rounds. Please call the Dermatology Clinic to verify dates and times before traveling to Charlottesville.
—◊—
The University of Virginia School of Medicine is accredited by the Accreditation Council for Continuing Medical Education to provide continuing medical education for physicians. The University of Virginia School of Medicine takes responsibility for the content, quality and scientific integrity of this activity. The University of Virginia School of Medicine designates this continuing medical education activity for 3 credit hours of the Physician's Recognition Award of the American Medical Association.
All faculty participating in an ACCME sponsored educational activity are expected to disclose to the audience any significant financial interest or other relationship (1) with the manufacturer(s) of any commercial product(s) and/or provider(s) of commercial services discussed in an educational presentation and (2) with any commercial supporters of the activity.