Clinical Training
Three residents are appointed each year by the Department of Dermatology. Only applicants who are willing to stay for the full three-year training period will be considered. All applicants must complete a PGY-1 internship, in an ACGME accredited program, before starting their dermatology residency.
Curriculum & Rotations
General dermatology clinic in which the resident is paired one-on-one with various faculty who have diverse training backgrounds, interests, and styles of practice.
Resident continuity clinics which starting within the first 3 months of training and increasing in number over the three year experience allowing the trainee to follow their own patients longitudinally from presentation, diagnosis, and management.
Inpatient consult dermatology with a total of 4-6 dedicated months in the 2nd and 3rd year of training.
Pediatric dermatology clinics with a fellowship-trained Pediatric Dermatologist regularly over the three years of training.
Mohs surgery with one-on-one experience with a fellowship-trained Mohs surgeon totaling 4-5 dedicated months throughout the residency.
Dermatopathology instruction with 4-5 months of specific focus built into the residency.
Procedural training:

Pulsed Dye Laser and Intense Pulsed Light in the outpatient setting
Pulsed Dye Laser in the operating room
Exposure to fillers, Botox, chemical peels, and basic techniques in cosmetic dermatology

Experience and participation in multidisciplinary niche clinics and conferences such as:

Vascular Anomalies Conference
Cutaneous T-Cell Lymphoma Clinic
Allergy Immunology Dermatology Clinic
Rheumatology Dermatology Clinic
Vulvar Dermatology Clinic
Transplant Dermatology

Two months of elective time (one in the second year and another in the third year) built into the residency to allow trainees to pursue specific areas of interest outside of the curriculum.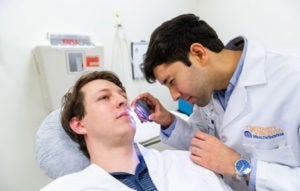 Meetings
The Department of Dermatology annually sponsors residents to attend one of the following meetings/conferences:
Residents may also attend the following local meetings/conferences:
D.C. Dermatology Meeting
VA/Richmond-Tidewater Dermatology Meeting
Medical College of Virginia (MCV) Speakers
Conferences
Please see our Conference Schedule »