Research

About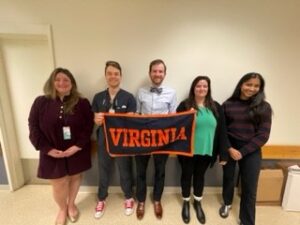 The University of Virginia Department of Dermatology is home to the Institute for Dermatologic Research and Advancement (IDRA), which is focused on investigator-initiated as well as commercial/industry-sponsored research endeavors. Our goal is to first and foremost provide the most up to date dermatologic care for our patients while advancing knowledge of cutaneous disease. IDRA is actively recruiting clinical trials in psoriasis, vascular anomalies, neurocutaneous disease, procedural dermatology, cutaneous malignancy, alopecia areata, graft-versus-host disease and others.
For more information about IDRA or participation in clinical trials, please contact IDRA Research Coordinator: Lauren Kuhns at LRK9T@virginia.edu
LITE Study
A large multi-center programmatic randomized study led by Dr. Joel Gelfand at University of Pennsylvania, assessing NB-UVB therapy for psoriasis in the office and at home settings. UVA is proud to be a collaborating site and is actively recruiting patients. For more information, contact LITE Study at (434)243-0315 or uvastac@virginia.edu.
CTP543 for treatment of alopecia areata
This is a two part, double-blind, randomized, multicenter study to evaluate the regrowth of hair with CTP-543 (an oral JAK inhibitor) and subsequent durability of that regrowth following dose reduction in adult patients with moderate to severe alopecia areata.  We are actively recruiting patients for this trail.
COMFY Blanket trial
A randomized controlled trial analyzing factors that mitigate the perioperative patient experience in Mohs micrographic surgery. Currently actively recruiting patients.
Sodium thiosulfate for calcinosis cutis
The first arm of the trial is a split body randomized placebo-controlled trial of topical STS for small (<3 mm) calcium lesions. The second arm will be a randomized dosing interval trial of Intralesional STS for larger (>3 mm) calcium lesions, comparing weekly to monthly injections. Actively recruiting patients for both the topical (small calcinosis lesions) and intralesional (large lesions) arms.
HS (Hidradenitis Suppurativa) PROGRESS registry
This is a prospective, longitudinal, observational cohort study aimed at comprehensively characterizing HS from clinical and biological perspectives with the goal of improving knowledge and treatment of patients with hidradenitis suppurativa.
Dupilumab for bullous pemphigoid
A Multicenter, Randomized, Double-Blind, Placebo-Controlled, Parallel Group Study to Evaluate the Efficacy and Safety of Dupilumab in Adult Patients with Bullous Pemphigoid.