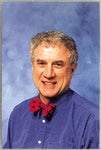 Brookeman, James R.
Primary Appointment
Professor of Research, Radiology and Medical Imaging
Contact Information
PO Box 801328
School of Med. P.O. Box 801328, Rm 1190 in MR4
Telephone: 434-982-3152
Email: jrb5m@virginia.edu
Research Interests
Magnetic Resonance Investigations mainly Hyperpolarized Gas and 3D Brain Imaging
Research Description
Our research seeks to improve methods of both two-dimensional and three-dimensional magnetic resonance image acquisition for diagnosis and for the planning and development of specialized radiofrequency coils for improved imaging used in surgery. The Department of Radiology's research laboratory is equipped with a 1.5 Tesla whole-body MR scanner. Plans are well advanced to install a new enhanced-gradient 1.5 Tesla MRI for improved cardiac and neurological studies and a 3 Tesla dedicated-head MR scanner for functional brain imaging.

Since 1996 we have pursued research in Hyperpolarized Noble Gas MR as well, employing laser-polarized Helium-3 and Xenon-129 to study lung ventilation, virtual colonoscopy, and tissue perfusion. At this time we are investigating a series of asthma and COPD subjects to evaluate the clinical potential of this new lung imaging technique.
Selected Publications